A veteran FBI agent has pleaded guilty to giving classified information to Chinese nationals, according to a Justice Department indictment first unsealed Monday.
The charges, which were filed in March, are against 46-year-old Kun Shan Chun, also known as "Joey" Chun. Chun was born in China but has worked for the FBI since 1997 with duties that have included "accessing sensitive and, in some instance, classified information," according to court documents. Chun came to the United States in 1980 and became a naturalized American citizen in 1985, the New York Times reported.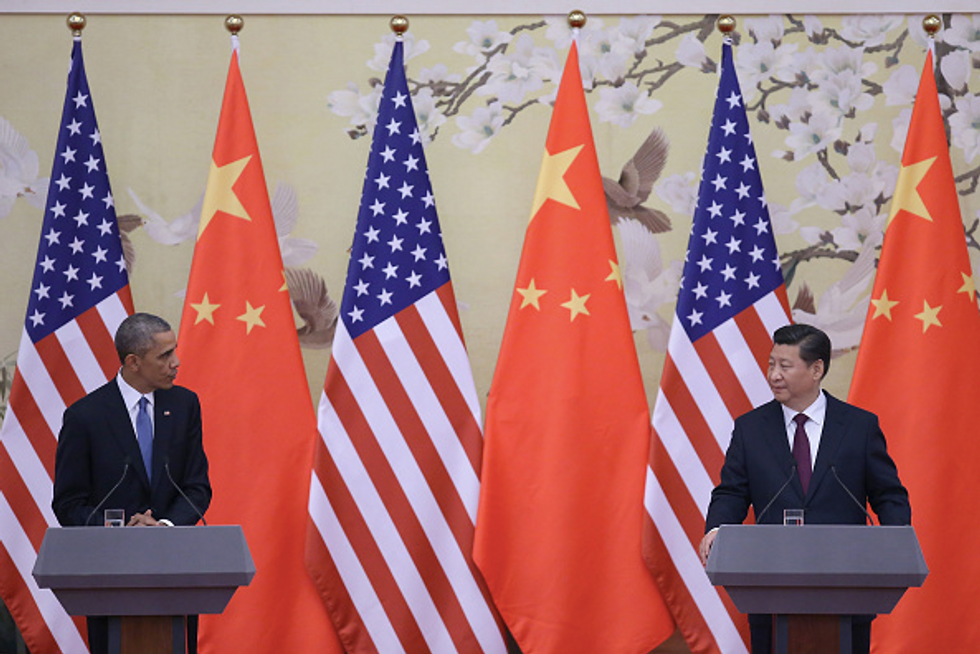 President Barack Obama and Chinese President Xi Jinping attend a press conference at the Great Hall of People in Beijing, China. (Feng Li/Getty Images)
The complaint, filed by the U.S. District Attorney's Office for the Southern District of New York, alleges that Chun "maintained relationships" with representatives of a Chinese technology company and "one individual whom Chun understood to be affiliated with the Chinese government," according to Fox News.
In 2015, Chun is believed to have traveled to Europe, where he allegedly told an undercover FBI agent that he wanted to introduce him to the Chinese individuals.
"Chun also expressed a willingness to facilitate the passage of sensitive United States government information from the [undercover FBI agent] to one or more of his Chinese associates, including individuals associated with the Chinese government," the complaint reads.
Chun has pleaded guilty to one count of acting in the United States as an agent of China, which carries a 10-year maximum prison term.
"At the time, I knew that was wrong, and I'm sorry for my actions," Chun said, according to Reuters.
Chun was released on bail. His sentencing is scheduled for Dec. 2.
—
Follow the author of this story on Twitter and Facebook: