Republican Rep. Richard Hanna made waves Tuesday vowing to vote for Democratic presidential nominee Hillary Clinton over his party's nominee Donald Trump. The New York congressman made his announcement in an interview with the Syracuse Post Standard published Tuesday.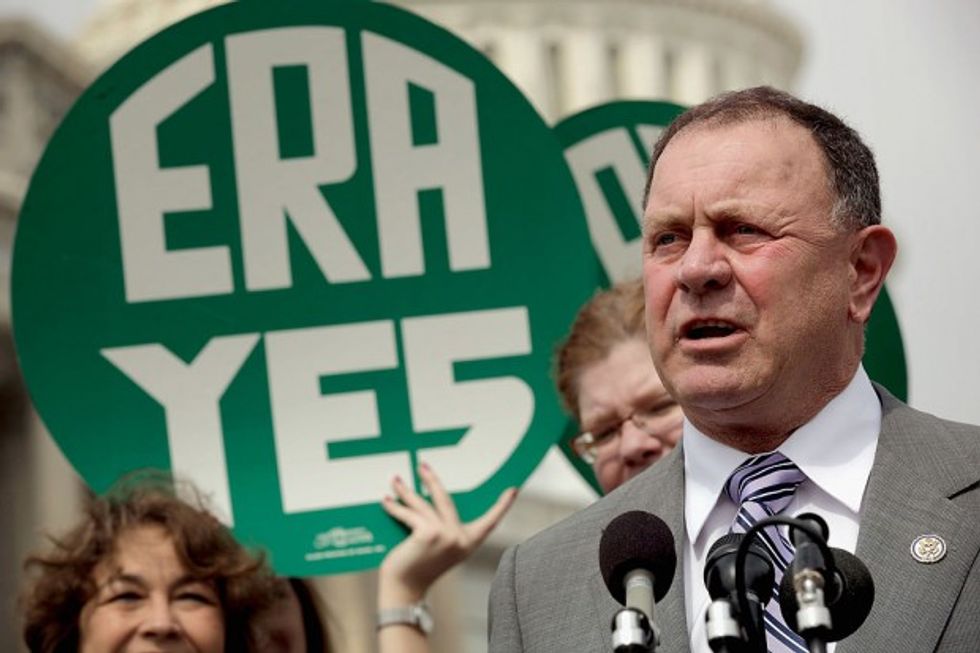 Rep. Richard Hanna (R-NY) and representatives of women's groups hold a rally to mark the anniversary of congressional passage of the Equal Rights Amendment at the U.S. Capitol. (Chip Somodevilla/Getty Images)
Hanna said that Trump is "unfit to serve our party and cannot lead this country."
"I think Trump is a national embarrassment," Hanna said. "Is he really the guy you want to have the nuclear codes?"
In an op-ed published in the Post Standard alongside his interview, the liberal Republican wrote, "If I compare the life stories of both candidates, I find Trump deeply flawed in endless ways."
"A self-involved man who is worth billions yet is comfortable — almost gleefully — using bankruptcy laws to avoid the consequences of his own choices," he wrote. "A man of character would not defend his actions but rather display shame and or at least regret. He is unrepentant in all things. Think about those average people who paid for his choices."
Hanna concluded:
While I disagree with her on many issues, I will vote for Mrs. Clinton. I will be hopeful and resolute in my belief that being a good American who loves his country is far more important than parties or winning and losing. I trust she can lead. All Republicans may not like the direction, but they can live to win or lose another day with a real candidate. Our response to the public's anger and the need to rebuild requires complex solutions, experience, knowledge and balance. Not bumper sticker slogans that pander to our disappointment, fear and hate.
According to The Hill, while some GOP lawmakers have refused to endorse Trump, Hanna is the first congressional Republican to say he will vote for Clinton for president.
Hanna, who announced plans to retire at the end of his current term, is known for breaking with most members of his party on issues such as abortion and climate change.
Asked if he was worried that his remarks would be met with backlash from fellow Republicans, Hanna told the Post Standard, "I can't look back in my life when I leave this job and know that I didn't speak the truth when it was important to do so."
—
Follow the author of this story on Twitter and Facebook: