When it comes down to a choice between Republican presidential nominee Donald Trump and Democratic nominee Hillary Clinton, iconic actor-director Clint Eastwood seems to prefer Trump sitting in the Oval Office for the next four years.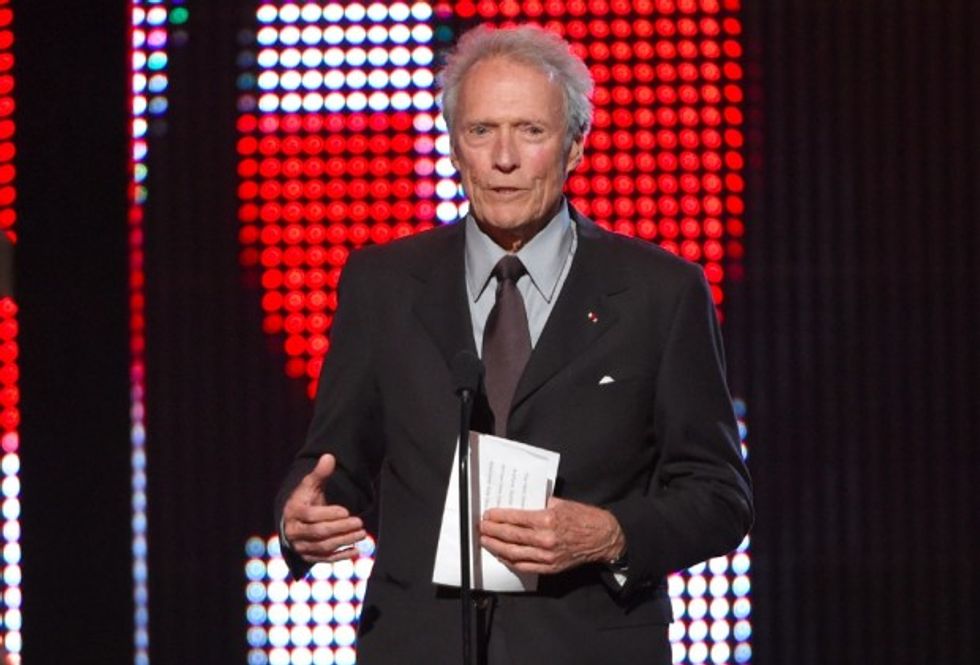 Clint Eastwood presents the hero award at the Guys Choice Awards at Sony Pictures Studios on Saturday, June 4, 2016, in Culver City, Calif. (Photo by Chris Pizzello/Invision/AP)
Eastwood said so in an interview in the latest issue of Esquire magazine, which included his actor son Scott. But that's not all he said.
The elder Eastwood added that Trump is "onto something because secretly everybody's getting tired of political correctness, kissing up."
"That's the kiss-ass generation we're in right now. We're really in a p***y generation. Everybody's walking on eggshells. We see people accusing people of being racist and all kinds of stuff. When I grew up, those things weren't called racist. And then when I did 'Gran Torino,' even my associate said, 'This is a really good script, but it's politically incorrect.' And I said, 'Good. Let me read it tonight.' The next morning, I came in and I threw it on his desk and I said, 'We're starting this immediately.'"
Eastwood added that what makes Trump stand out is "he's just saying what's on his mind. And sometimes it's not so good. And sometimes it's … I mean, I can understand where he's coming from, but I don't always agree with it."
Regarding the claims of racism surrounding Trump, Eastwood acknowledged that the billionaire businessman has said "a lot of dumb things."
"You know, he's a racist now because he's talked about this judge. And yeah, it's a dumb thing to say. I mean, to predicate your opinion on the fact that the guy was born to Mexican parents or something. He's said a lot of dumb things. So have all of them. Both sides. But everybody—the press and everybody's going, 'Oh, well, that's racist,' and they're making a big hoodoo out of it. Just f***ing get over it. It's a sad time in history."
And what kind of changes would he like to see in America?
"I'd say get to work and start being more understanding of everybody—instead of calling everybody names, start being more understanding. But get in there and get it done. Kick ass and take names. And this may be my dad talking, but don't spend what you don't have. That's why we're in the position we are in right now. That's why people are saying, 'Why should I work? I'll get something for nothing, maybe.'"
As far as a Clinton presidency is concerned, Eastwood only said hers would be "a tough voice to listen to for four years. It could be a tough one. If she's just gonna follow what we've been doing, then I wouldn't be for her."
When Eastwood was asked about endorsing Trump, he replied, "I haven't endorsed anybody. I haven't talked to Trump. I haven't talked to anybody."
But when it came down to Trump and Clinton head to head, Eastwood noted that it would be a "tough" decision but that he'd "go for Trump … you know, 'cause she's declared that she's gonna follow in Obama's footsteps. There's been just too much funny business on both sides of the aisle. She's made a lot of dough out of being a politician. I gave up dough to be a politician. I'm sure that Ronald Reagan gave up dough to be a politician."