The day after Republican presidential nominee Donald Trump declined to endorse House Speaker Paul Ryan for re-election, Trump's running mate, Indiana Gov. Mike Pence, endorsed the Wisconsin GOP leader during a phone interview on Fox News.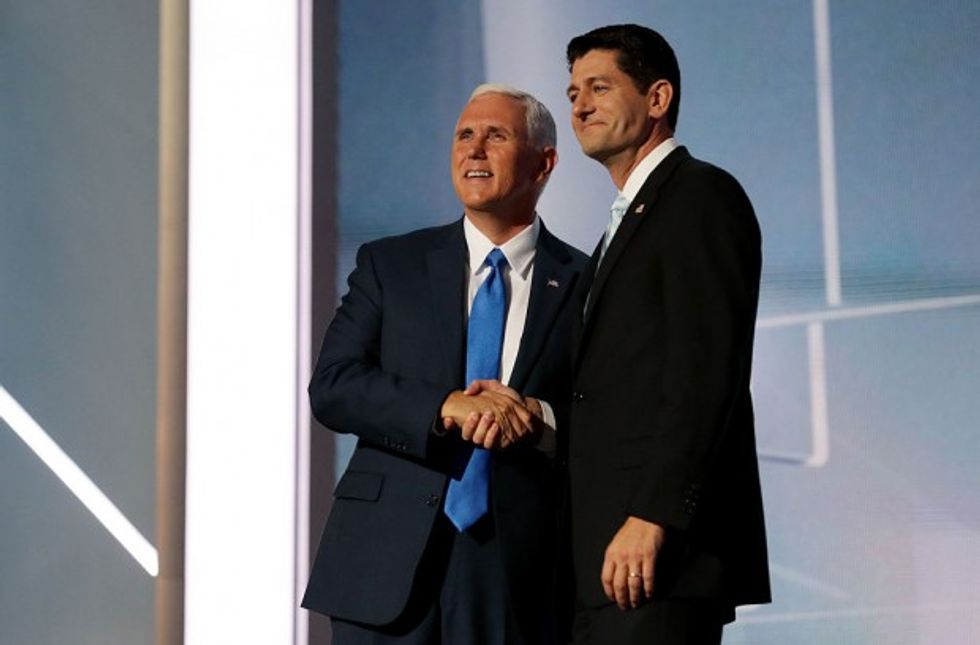 Speaker of the House Paul Ryan (R-Wis.) shakes the hand of Republican vice presidential candidate Mike Pence as he walks on stage to deliver a speech at the Republican National Convention July 20 in Cleveland. (Chip Somodevilla/Getty Images)
"I strongly support Paul Ryan, strongly endorse his re-election," Pence said. "He is a longtime friend. He's a strong conservative leader. I believe we need Paul Ryan in leadership in the Congress of the United States."
Pence said he had Trump's blessing to endorse Ryan.
"I talked to Donald Trump this morning about my support for Paul Ryan and our longtime friendship," Pence said. "He strongly encouraged me to endorse Paul Ryan in next Tuesday's primary, and I'm pleased to do it."
Asked if the back-and-forth between Trump and Ryan was a sign of a lack of unity in the Republican Party, Pence said the two men are building a relationship.
"And I'm very confident after Donald Trump's elected president and Paul Ryan's re-elected to Congress and as speaker of the House, these two men are gonna do great things to restore this country at home and abroad," he said.
Trump told the Washington Post Tuesday that he is "not quite there yet" when it comes to reciprocating Ryan's endorsement and tweeted his praise of Ryan's primary opponent. Trump's words appeared to echo what Ryan told CNN about the GOP nominee prior to his endorsement.
"I'm just not ready to do that at this point," Ryan told CNN's Jake Tapper in May. "I'm not there right now."
Ryan later endorsed Trump, calling him the candidate most likely to help House Republicans turn their agenda "into laws to help improve people's lives."
Watch Pence's interview below:
—
Follow the author of this story on Twitter and Facebook: