Incredible footage taken moments after an Emirates airline plane crash-landed in Dubai shows the 300 passengers fleeing to safety.
Minutes later, the smoking plane exploded on the Dubai International Airport runway.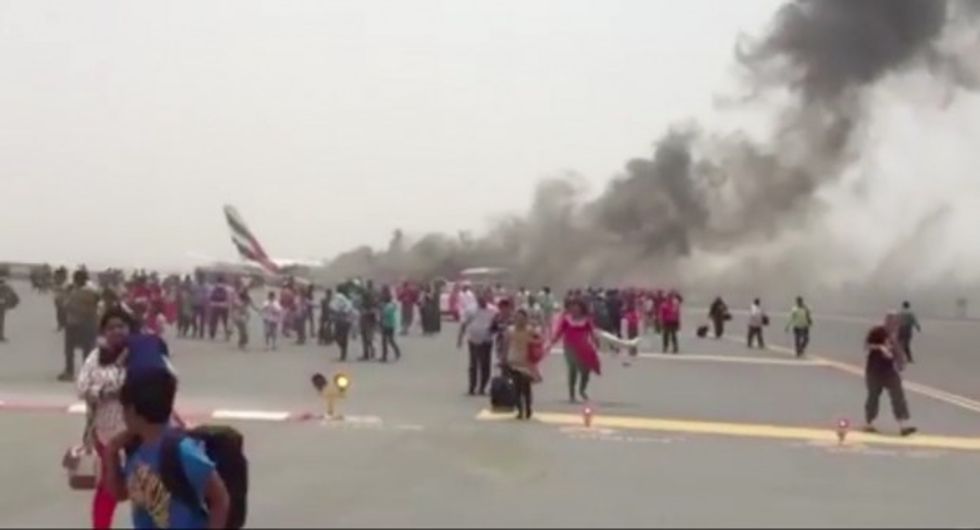 Image source: Mirror U.K.
The video shows screaming passengers carrying children and suitcases as they run for their lives, away from the Boeing 777-300.
Passengers who spoke with the Mirror said they feel "lucky to be alive" after Flight EK521 made the miraculous landing Wednesday morning.
Statement by HH Sheikh Ahmed Bin Saeed Al Maktoum, Emirates' Chairman & Chief Executive on #EK521 incident https://t.co/kdZKaGmvoj (English)

— Emirates airline (@emirates) August 3, 2016
Emirates airline confirmed Wednesday morning that no one was seriously injured in the crash, which was attributed to an "operational incident." Passengers from 20 different countries were on board the fated flight. Six were U.S. citizens.
Watch: