LOS ANGELES (AP) -- The sword swallower who was hit with a flaming arrow on "America's Got Talent" wasn't the first performer to suffer an injury on the variety competition series.
While the show's judges and viewers were stunned when Ryan Stock's fiancee AmberLynn Walke accidentally hit him with a crossbow during Tuesday's episode, the performer is merely latest person to suffer a "Got Talent" injury.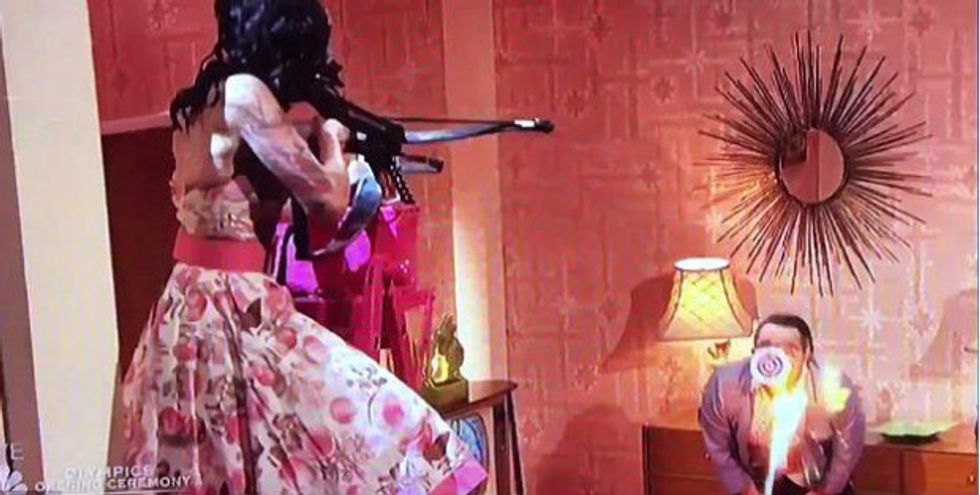 Image source: YouTube
A look back at other mishaps on the series:
—
Ivan the urban action figure
After advancing in the second season in 2007 with an acrobatic dancing routine, Ivan's next stunt got off to a bad start. He dove head-first into a pile of metal folding chairs and spent a few motionless minutes on the floor.
"America's Got Talent" host Jerry Springer said the acrobatic break-dancer received medical attention and would be fine, although he wasn't able to continue on in the competition.
—
Little firewater and white dove
Simon Cowell and the judges from "Britain's Got Talent" cut short the 2007 knife-throwing act of Brian "Little Firewater" Webber when a few of his blades didn't land and one grazed the noggin of his daughter, Melanie "White Dove" Webber.
Melanie dismissed the criticism and told the panel she never felt in danger. Cowell didn't agree. He told her, "Why are you arguing with me when I just saved your life?"
—
Primitivo Montoya
During the sixth season of "America's Got Talent" in 2011, utility worker Primitivo Montoya fell off the stage during a goofy dance routine while attempting a somersault.
Montoya quickly sprang back up. However, judges Piers Morgan, Sharon Osbourne and Howie Mandel axed him from the show. He returned later that season and fell off the stage again - this time intentionally onto a mattress.
—
Tran Tan Phat
A magician on the third season semi-finals of "Vietnam's Got Talent" in 2015 mistakenly gulped acid and was sent to the hospital instead of the finale.
Phat was supposed to single out the odorless substance among four identical shots of water. Instead, he drank it and left the stage after his performance. He suffered burns to his lips and tongue.
—