Democratic presidential nominee Hillary Clinton paused her speech at a Thursday rally in Las Vegas, Nevada, when animal-rights protesters tried to jump onstage, the Las Vegas Review Journal reported.
CNN reported the protesters "approached" Clinton. It isn't clear what, if anything, happened to the protesters. But CNN said four Secret Service agents quickly surrounded Clinton, adding that she "never appeared to be in danger."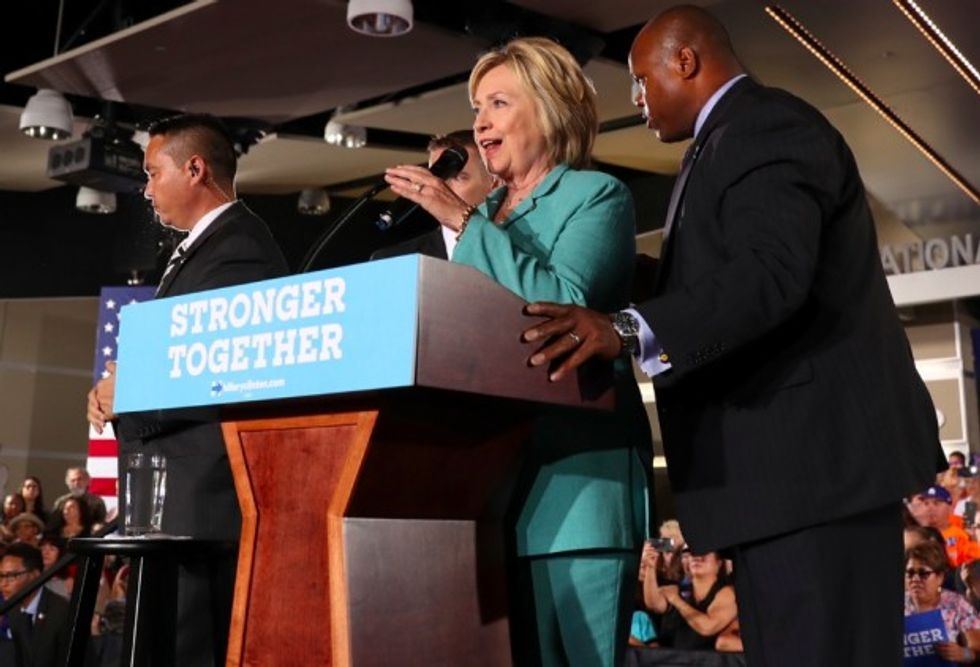 Secret Service agents surround Democratic presidential nominee Hillary Clinton onstage after protesters disrupted her campaign event at the International Brotherhood of Electrical Workers in Las Vegas, Thursday, Aug. 4, 2016. (AP Photo/Andrew Harnik)
She did look a bit unnerved by the incident, however, and one agent told her, "You're okay. Keep talking. You handle it. We're not going anywhere."
Clinton then broke out of her silence, laughing and saying "Okay, here we are!" The agent again told Clinton to "keep talking."
At that point she turned the incident into a slam on Republican presidential nominee Donald Trump and his sons, who Trump has said love to hunt.
"Okay, we'll keep talking," Clinton continued. "And apparently these people are here to protest Trump, because Trump and his kids have killed a lot of animals. So thank you for making that point."
Secret Service agents walk on stage during Hillary Clinton rally https://t.co/Btp1na4Pxt

— ABC News Politics (@ABCPolitics) August 4, 2016
Politico reported that the activists chanted and held up signs that read, "Until Every Animal Is Free."
CNN said it was the first time agents have rushed a stage to protect her. Agents rushed a stage to protect Trump earlier this year.