A Gold Star mother told CNN Thursday that President Barack Obama ignored a request made by fallen soldiers' families when their loved ones' bodies were returned to the United States.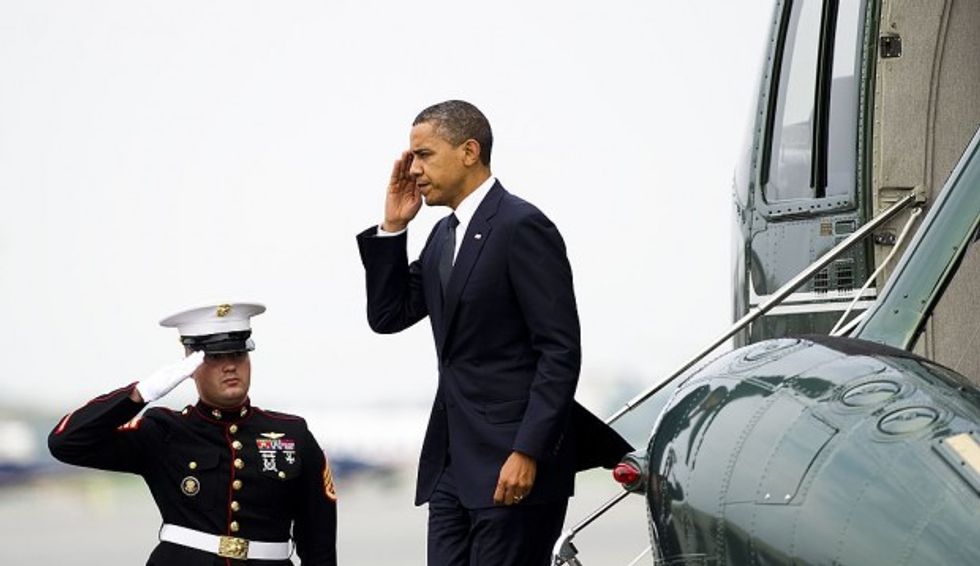 President Barack Obama salutes as he arrives at Dover Air Force Base Aug. 9, 2011. (Jim Watson/AFP/Getty Images)
During in interview on "Legal View," Karen Vaughn, mother of Aaron Vaughn, a Navy SEAL who was killed in Afghanistan, was discussing Republican presidential nominee Donald Trump's feud with another Gold Star family, the Khans.
Vaughn said that "Mrs. Khan probably had a right to be offended" by Trump's remarks, but "there's just a lot more important things going on."
"Words don't mean as much to me as actions," she said in defense of Trump. "That's just me."
Then she shared her experience:
When my son was killed, he was killed in the largest loss of life in the history of Naval Special Warfare, and we had 30 families at Dover Air Base waiting for our sons' bodies to be returned from Afghanistan.

What we experienced there was ... the families unanimously asked Barack Obama to not bring any media, to not make this a media event, that he was welcome to be with us but no media. And you know, he showed up with cameras, and the next day our pictures or his picture saluting the caskets of our boys was plastered over every outlet in America.

I guess I'm just saying if you're going to just be outraged that one person says something that could be construed as a flippant remark without a lot of thought put behind it — you know, what about the outrage over things people do, the outrage over Hillary Clinton still to date insinuating those grieving parents who say she said one thing must be mistaken. You know, it's just actions mean a lot more to me than words. That's just kind of the angle I come from on it.
A spokesperson for the White House did not immediately return TheBlaze's request for comment on Vaughn's claim.
Watch below:
—
Follow the author of this story on Twitter and Facebook: