Republican nominee Donald Trump today dismissed criticism from former CIA director Mike Morell, calling him just "another Obama-Clinton pawn."
Morell penned a scathing op-ed in the New York Times today, endorsing Democratic nominee Hillary Clinton and calling Trump dangerous for U.S. national security.
"In the intelligence business, we would say that Mr. Putin had recruited Mr. Trump as an unwitting agent of the Russian Federation," Morell wrote.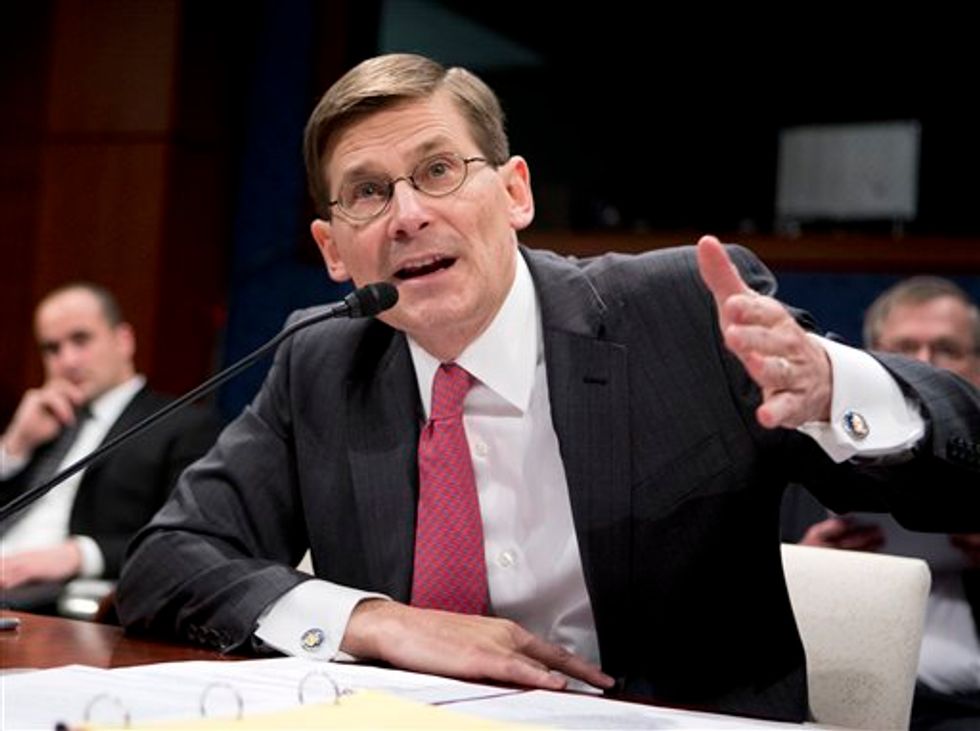 Former CIA Deputy Director Michael Morell testifies on Capitol Hill in 2014 before the House Intelligence Committee during its investigation into Benghazi. (AP/Manuel Balce Ceneta)
The former CIA chief is not a registered Republican or Democrat, but has voted for members of both parties.
"My training as an intelligence officer taught me to call it as I see it," he said in his op-ed. "This is what I am doing now. Our nation will be much safer with Hillary Clinton as president."
Trump pushed back today in a scathing statement of his own, arguing that on the merits of national security, he's better equipped to lead the nation than Clinton.
"Hillary Clinton and President Obama bear the direct responsibility of destabilizing the Middle East, having let ISIS take firm hold and Iraq, Libya and Syria, not to mention their allowing Americans to be slaughtered at Benghazi," Trump said in a statement this morning.
"Clinton's home email server that she lied to the American people about was a profound national security risk, and it should come as no surprise that her campaign would push out another Obama-Clinton pawn (who is not independent) to try to change the subject in a week when Clinton's role in putting Iran on the path to nuclear weapons and this Administration's being called out for sending $400 million in cash to the world's largest state sponsor of terrorism is on every front page in the country," Trump said.
Also today, Trump admitted that he had been wrong this week when he described seeing a video of a U.S. plane delivering that $400 million to Iran.
—
Follow the author of this story on Twitter and Facebook:
[facebook //www.facebook.com/plugins/like.php?href=