Surveillance video released of a Texas woman's arrest in March has been released, reigniting controversy over the altercation between the black woman and police officer.
Earledreka White, 28, was initially pulled over by officer Gentian Luca for crossing a solid white line in Houston. White and Luca initially before she called 911 to complain that Luca was allegedly being aggressive with her, the Houston Chronicle reported.
"I would like another officer to come out here," White told the 911 dispatcher. "My heart is racing. I'm really afraid."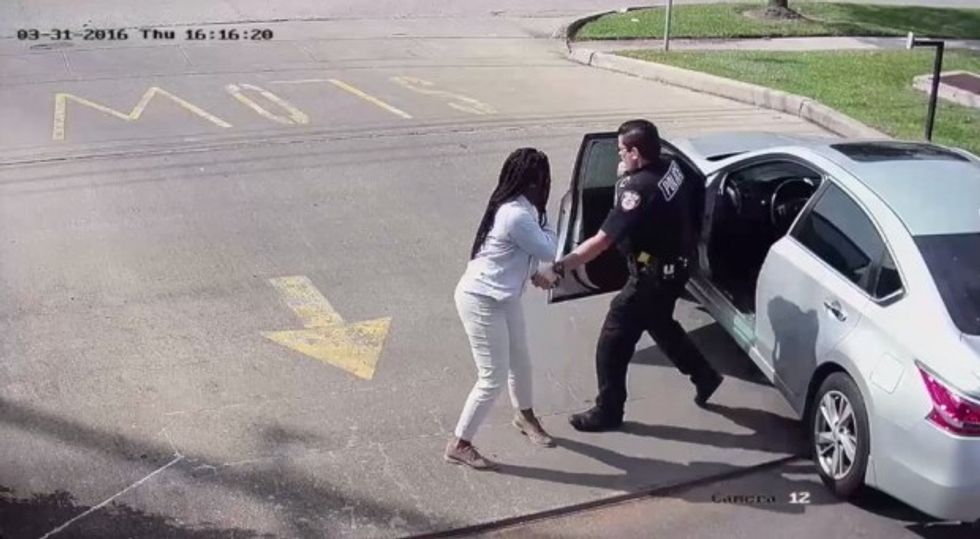 Image source: YouTube
In the video, which was released to the Houston Chronicle by White's lawyers, the woman is seen on the phone for several minutes as the officer simply stood near her as she gave her location, information and his department. Eventually Luca reached for his handcuffs and grabbed White, who struggled to get away from him.
"I have never been treated like this in my life," White said on the phone. "My car's running, people are out here ... he's pulling my hair. Can you please get someone out here?"
"This man is hurting me," White said later in the video as she began to cry and scream.
Metropolitan Transit Authority police department officials told the Chronicle that they investigated the incident in April — which included viewing the surveillance video — and found no wrongdoing on Luca's part.
"She was uncooperative, but he did everything reasonable within the law," Police Chief Vera Bumpers said. "He explained what was going on, what the violation was and that he was focused on her safety as well as his."
White ended up spending two days in jail following the altercation and a charge of resisting arrest.
A Harris County District Attorney's Office spokesman confirmed that the office is investigating the charges against White as well as the allegations she and her lawyers have made against the police officer.
(H/T: Houston Chronicle)