Former House Speaker Newt Gingrich called out a Democratic congressman who questioned how Melania Trump gained her legal immigration status to America.
U.S. Rep. Xavier Becerra first noted that her husband — Republican presidential nominee Donald Trump — hasn't disclosed his tax return information and then hit her immigration status.
"We don't yet know how his wife gained her immigration status because he won't reveal that as well," Becerra said as he and Gingrich squared off on Fox News Sunday.
But Gingrich, who is an adviser to Donald Trump, immediately set the record straight.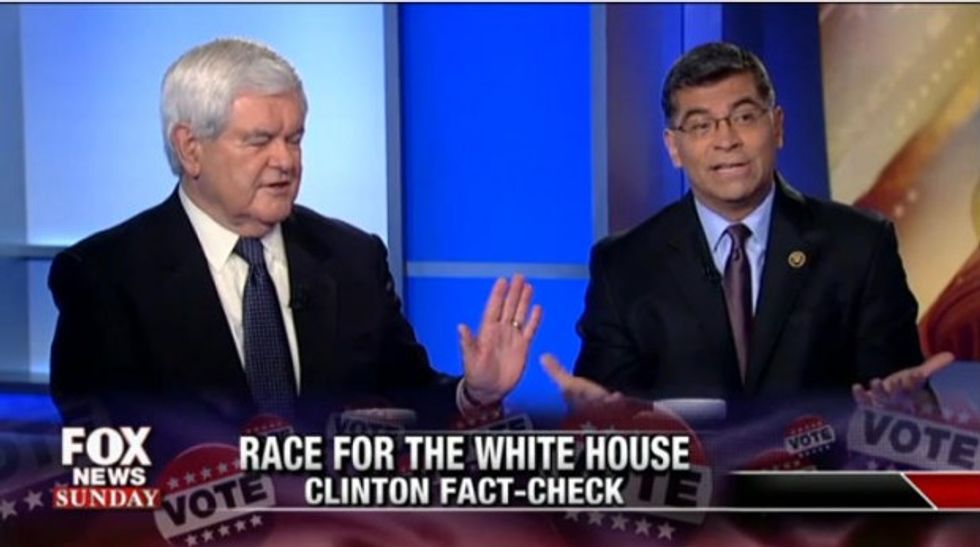 Image source: Fox News
"First of all, we know that his wife had a green card before she met him," the former House Speaker said.
"How did she get the green card?" the California congressman challenged him again.
"She came here legally," Gingrich responded. "She applied for a green card."
A clearly frustrated Gingrich added, "This is the only immigrant in America you're worried about. I think it's amazing that the one person you decide to pick on happens to be the wife of Donald Trump."
Becerra clarified that "it's great" Melania Trump is now a naturalized American citizen, adding that he has "no problems with that."
"I'm the son of immigrants," Becerra said. "But what does concern is when some guy goes out and bashes immigrants, not only undocumented but legal immigrants, and won't explain how his wife gained her legal status, it's important to note."
Melania Trump was born in Slovenia but immigrated to the U.S. in 1996. The prospective first lady has previously said that she "followed the law" when she came to America.
"I never thought to stay here without papers," she told MSNBC's "Morning Joe" in February. "I had a visa, I traveled every few months back to the country to Slovenia to stamp the visa. I came back, I applied for the green card. I applied for the citizenship later on after many years of green card. So I went by system, I went by the law."
Here's the clip. The relevant portion begins around the 5:30 mark:
—
Follow the author of this story on Twitter and Facebook: