After an unidentified arsonist doused his first Donald Trump sign in gasoline and set it ablaze, one New York homeowner has decided to put up the same display again, but this time — it's bigger.
Sam Pirozzolo said he was first alerted to the fact that some "coward" had torched his sign when his daughter woke him up around 1 a.m. Sunday to tell him someone was ringing his doorbell. A few seconds later, he noticed an orange glow right outside his window.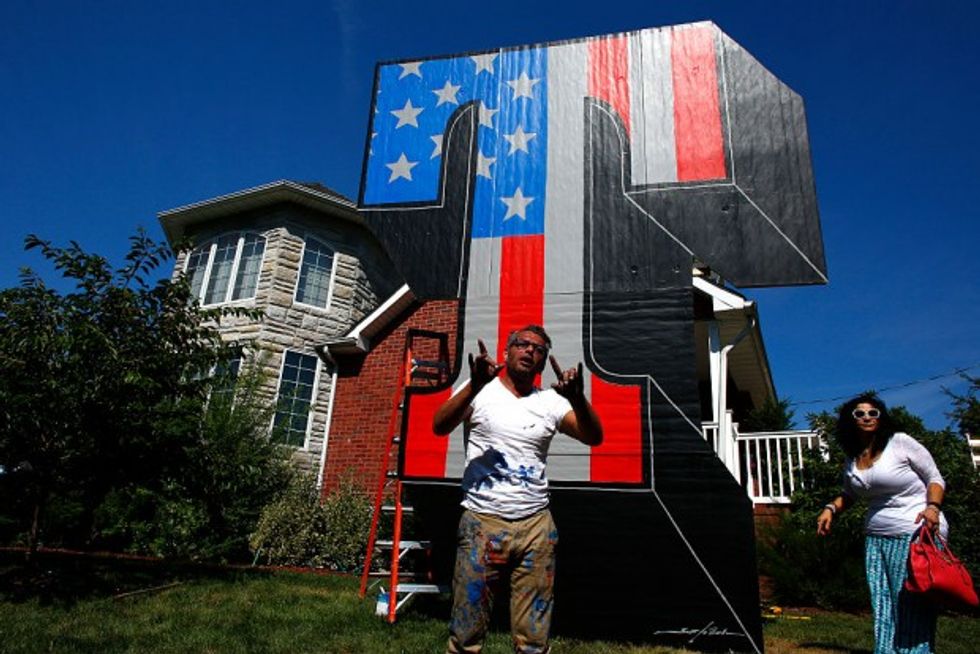 New York artist Scott LoBaido unveils a 'Patriotic Lawn T' in support 2016 Republican presidential nominee Donald Trump in the area of Castleton Corners on Staten Island, New York on August 9, 2016. LoBaido's 12-foot-high 'T' was destroyed fire set by an unidentified arsonist on August 7. Lobaido created a brand new statue that stands in the yard belonging to Trump supporter Sam Pirozzolo. (Photo by KENA BETANCUR/AFP/Getty Images)
The Staten Island resident said he wanted the arson to be investigated as a hate crime, according to the New York Post, but police said the crime did not meet the criteria for such a classification.
"If this was about my religion or if I was gay, this would be a hate crime," Pirozzolo said. "That someone can walk up, set a fire, burn my property and put my family in danger — it's crazy not to make this a hate crime."
Nevertheless, Pirozzolo and the sign's creator, artist Scott Lobaido, have constructed an identical, but even larger, sign to send the arsonist a bold message. For Lobaido, the "T," meant to represent the Republican presidential nominee's last name, is more than a sign. He says it's a work of art.
"This is my freedom of speech, expression as an artist," he told Maria Bartiromo Tuesday afternoon. He told the Fox News host that others in the neighborhood and some of his close friends pitched in to speed the process along to get the new display hoisted up as soon as possible.
Pirozzolo expressed much the same sentiment, telling Bartiromo, "There is nothing that's gonna stop me from exercising my First Amendment right."
And other residents nearby want to make sure his rights are protected, too. In fact, Lobaido said a friend has offered to donate a surveillance system to keep a watchful eye on Pirozzolo's property, should vandals try to damage the new plus-sized patriotic "T" emblem.
Pirozzolo also recounted the phone call he had with Trump, a fellow New Yorker who was thankful for his support. During the call, Trump not only talked to Pirozzolo, but introduced himself to his entire family, also.
"It was great to have the next president tell my children, 'you have a great dad,'" the homeowner said.
Watch the Fox News interview below:
–
Follow the author of this story on Twitter: