A Christian freelance writer's essay — "When God Sends Your White Daughter a Black Husband" — was posted Monday on the Gospel Coalition website. But by Wednesday morning, author Gaye Clark tweeted that she was "profoundly grieved" and wanted her essay taken down over "the hurt and harm it has caused."
I have asked TGC to remove my article from their website. I am profoundly grieved over the hurt and harm it has caused. Would covet prayers.

— Gaye Clark (@ClarkGaye) August 10, 2016
In her essay, Clark disclosed her "presumptions" about who she'd envisioned her daughter marrying after Anna brought home Glenn — a black man "with dreads." Clark went on to detail her appreciation and love for Glenn after she got to know him.
Glenn came to Christ in college and served him passionately. He worked while attending classes and volunteered at church in an after-school program for urban kids. He graduated and found a job as an application developer for Blue Cross and Blue Shield. I noticed he opened doors for my daughter, Anna, even at the grocery store.

Godly. Kind. Well on his way to being a great dad and a good provider. I could only smile at God's plan and asked his forgiveness for my presumptions. Still, my impressive wish list for Anna's husband paled in comparison to her own: "He loves Jesus, Mom. That's it. That's my wish list. Jesus lover." Then a grin came across her face. "It's really awesome he's also cute, right?" Anna took a deep breath and with a sparkle in her eyes asked: "So, Mom, what do you think?"
Clark then offered "eight things to remember when your white daughter brings a black man home for dinner." One of her tips under the heading, "Remember Your Theology," revealed that "Glenn moved from being a black man to beloved son when I saw his true identity as an image bearer of God, a brother in Christ, and a fellow heir to God's promises."
While a great deal of comments about Clark's piece were positive — including those from commenters who identify as black — others weren't so kind.
"After reading this, I am stunned that TGC could let this be considered for publishing, let alone publish it," a commenter named Laura wrote. "This article is insulting because it is based on the presupposition that a black man is to be feared. It is clear that the author had some deep prejudices, and the tone of the article suggests a patronizing tone."
"This article causes me profound sadness," another commenter named Ashley stated. "I thought the title indicated that it would be a story of overcoming racism, gaining a deeper understanding of bias, and encouragement for Christians to lead the charge against racism. Instead, I found an article deeply rooted in white privilege, deeply rooted in bias, and seemingly blind to it."
"NOPE, poorly worded, poorly executed, and embarrassing," another commenter wrote. "We must get the thoughts out of our heads that a white person is remotely more spiritual, devout, Christian than others of a different race."
Rachel Bell called the article "fully, blindly entrenched in White Privilege, that at times dehumanized blackness, and that left white people with the suggestion of nothing more than, 'Hey, maybe you should think about changing some of your expectations of blackness.'"
"The author does not adequately acknowledge her own prejudice, which IS indeed present throughout this article," another commenter wrote. "Lots of us struggle with prejudice, but she really doesn't come out and own hers."
Here's a Twitter chat between Clark and "Jess," who responded to Clark wanting her essay taken down over "the hurt and harm it has caused":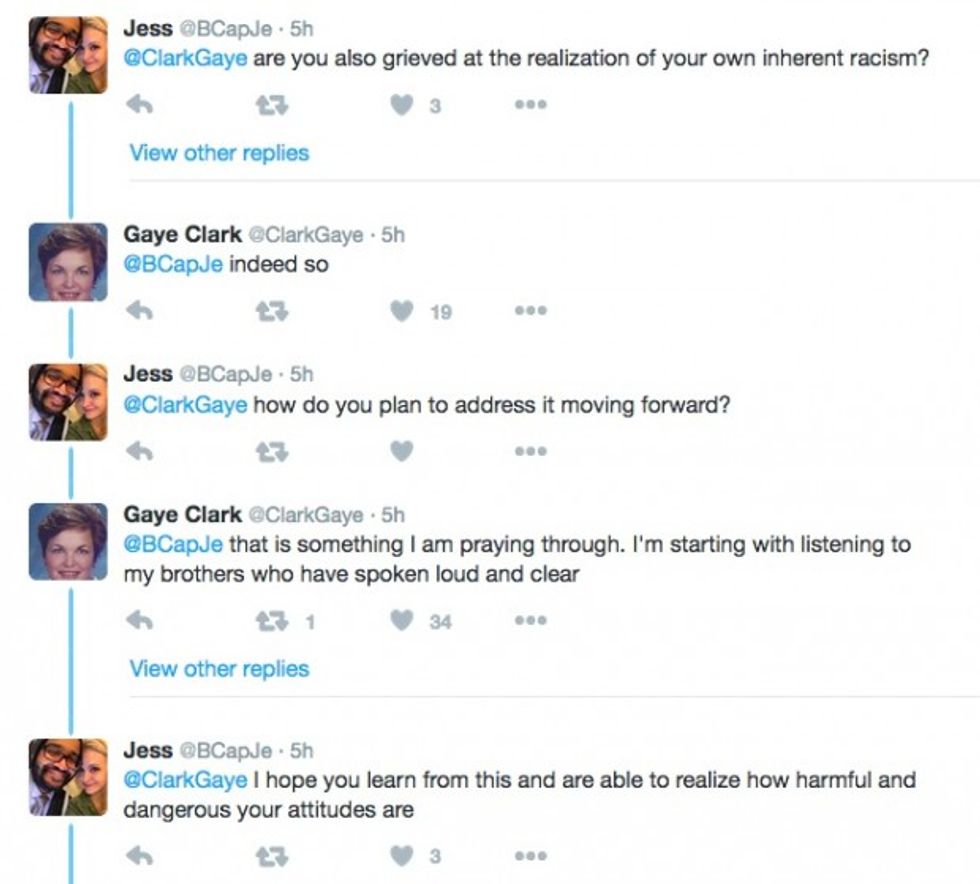 Image source: Twitter
One of the more recent comments defending Clark's essay said it like this:
Gaye is giving us a glimpse into her life and views in simplified form. Of course she had prejudice views she was unaware of. She owned up to them in the very beginning. The fact that her daughter Anna dated Glenn and brought him home without any fear of disappointing her parents speaks volumes that the Clarke household was not "racist." Gaye could not help that she was born "white." Of course she has views that are going to attribute to being "white" suburbia. You could have substituted Glenn with "heavily-tatooed ex-drug addict" or whatever. She gave her story to help other parents that may be struggling with the same issue she had. (I didn't agree with everything she wrote, but some of the comments are harsh!)

I am in a biracial marriage. My family had trouble accepting my husband because of his race. My husband's family had trouble accepting me because of my race. Both families claim to be "christian." If all of us exam ourselves, whether we are black, yellow, red, or white, we all have prejudices that stem from our how we were raised, from the media, from our experiences. The only remedy is to see others through the eyes of Jesus, who loves all so much that he died on the cross for our sins.
As of Wednesday afternoon, Clark's essay had not been taken down from the Gospel Coalition website. You can read the complete piece here.
(H/T: New York Daily News)