It started out as a decidedly solemn occasion when Michael Phelps stood on the podium Tuesday night with yet another gold medal draped around his neck, tears welling up in his eyes and the national anthem playing on the speakers following his win in the 200-meter butterfly.
Then just after the point in the anthem containing the lyric "gave proof through the night that our flag was still there," Phelps burst out laughing.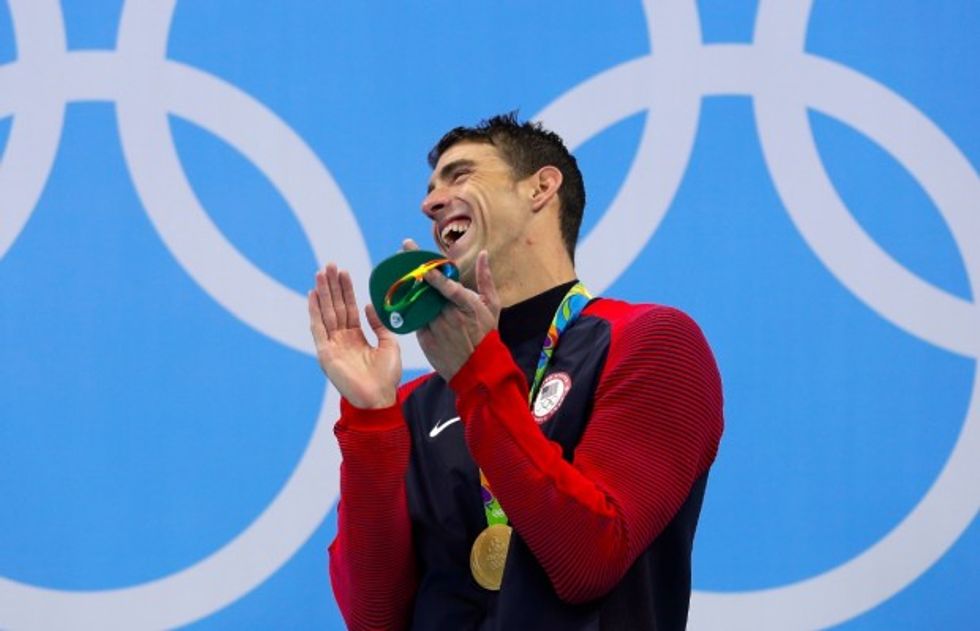 United States gold medal winner Michael Phelps laughs during the medal ceremony for the men's 200-meter butterfly at the 2016 Summer Olympics in Rio de Janeiro Tuesday. (AP Photo/Michael Sohn)
The reason may have been tough for most folks to grasp — that is, unless you're a sports fan from Baltimore. See, it's all about the anthem's next line, "O say does that star-spangled banner yet wave" — specifically the "O."
Lucky Number 20 https://t.co/TV1r1gJhVx

— NBC Olympics (@NBCOlympics) August 10, 2016
Following another gold medal performance as part of the men's 4X200-meter freestyle relay, Phelps explained why he went from tears to laughter on the podium.
This is so awesome @Orioles @MichaelPhelps @SportsCenter @espn #BaltimorePride #Os #USA #Phelps20 pic.twitter.com/P3xF7Daybv

— Mike B®u©e✌ (@Mbrucey8) August 10, 2016
"My boys from Baltimore were down on the other end, and back in Maryland, we all say 'O!' for the Orioles during that part of the national anthem," Phelps told NBC. "And all of a sudden I hear them roar 'O!' and I knew exactly where it came from, and I just lost it because those guys came down from Baltimore and New York City to be here, and it's just special to see those guys in the stands."
(H/T: WJZ-TV)