RIO DE JANEIRO (TheBlaze/AP) -- The Daily Beast has withdrawn a story that prompted ire of many readers, complaining that it could have outed gay athletes at the Rio Games.
The story's removal from the site Thursday night came hours after the editor-in-chief for the publication apologized for the article, which was first revised before being taken down completely.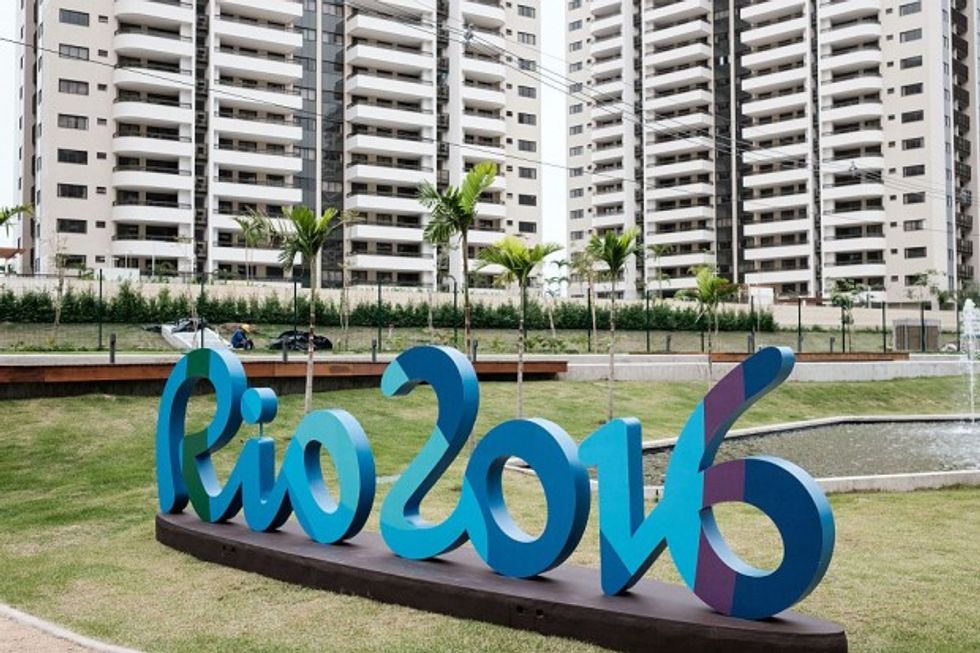 A logo of Rio 2016 is seen at the Olympic and Paralympic Village in Rio de Janeiro, Brazil, on June 23, 2016. (YASUYOSHI CHIBA/AFP/Getty Images)
"The Beast has heard readers' concerns about an Olympic sex app story; we've updated + I've added an editor's note," the site's editor-in-chief John Avlon tweeted Thursday.
The Beast has heard readers' concerns about an Olympic sex app story; we've updated + I've added an editor's note. https://t.co/0fRVKy41Hi

— John Avlon (@JohnAvlon) August 11, 2016
But after continued criticism, even after the story was updated, the left-leaning publication removed the controversial article altogether.
"We screwed up. We'll do better," Avlon tweeted, along with a link to a "note from the editors" explaining the mistake.
We Screwed Up. We'll Do Better. https://t.co/BjlAgZllUj

— John Avlon (@JohnAvlon) August 12, 2016
"Today we did not uphold a deep set of The Daily Beast's values," read a statement on the site. "These values - which include standing up to bullies and bigots, and specifically being a proudly, steadfastly supportive voice for LGBT people all over the world - are core to our commitment to journalism and to our commitment to serving our readers."
The story talked about how athletes use dating apps such as Bumble, Grindr, Jack'd, and Tinder to connect with people at the games. A reporter for the site said in the story that he got three dates in his first hour of trying and also detailed what some men wrote on their profiles on Grindr, a popular gay dating app.
Readers and social media users quickly voiced concern that the details in the original version of the story could not only out gay athletes, but also potentially threaten their safety.
Those concerns, Avlon wrote in issuing the first apology, were legitimate.
"This was never our reporter's intention, of course," Avlon wrote. "No names were ever used and some of the profiles described were of straight women. But there was a concern that even mentioning the home nation of some gay athletes could compromise their safety. We apologize for potentially jeopardizing that safety in any way. As a result, we have removed all descriptions of the men and women's profiles that we previously described."
The Society of Professional Journalists was quick to criticize the story as well.
"The athletes adversely affected by the story also deserve an apology," wrote Andrew Seaman, who chairs SPJ's ethics committee. "Such a story has no place in a modern media organization."
Avlon said some "editorial changes" were made to the original article in response to readers' concerns. The backlash continued, and the site then went a step further.
"The article was not intended to do harm or degrade members of the LGBT community, but intent doesn't matter, impact does," the site's statement on the story's withdrawal said. "Our hope is that removing an article that is in conflict with both our values and what we aspire to as journalists will demonstrate how seriously we take our error. We screwed up. We will do better."
—