It's a tale taken straight from a Nicholas Sparks novel. Henry and Jeanette De Lange died on July 31, only 20 minutes apart. The South Dakota couple had been married for 63 years, and their love story quickly caught the attention of local news stations.
Lee De Lange, one of their sons, equated his parents' passing to a divine gift, too beautiful to be explained in human terms.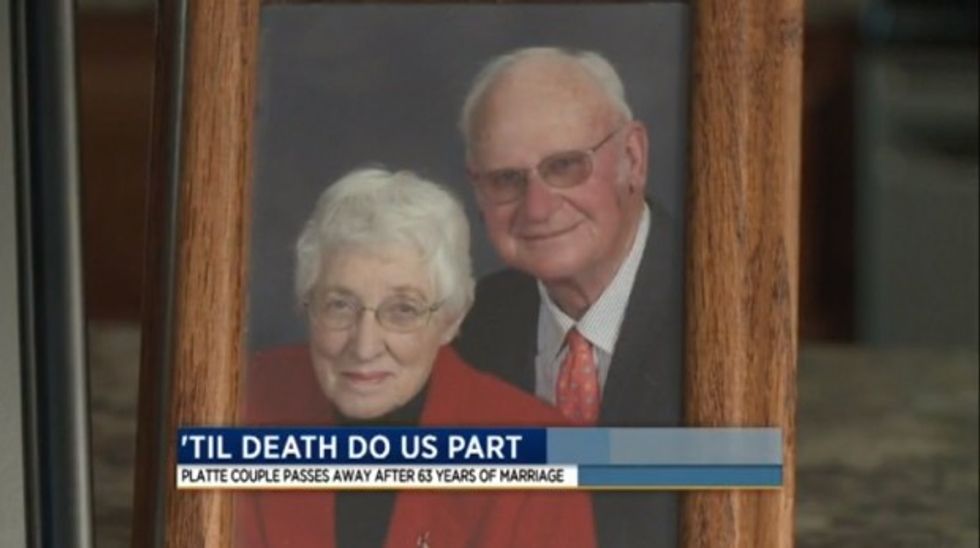 Image source: KSFY-TV
"We're calling it a beautiful act of God's providential love and mercy," he told KSFY-TV. "You don't pray for it because it seems mean, but you couldn't ask for anything more beautiful."
Jeanette De Lange, 87, who suffered from Alzheimer's disease, went first at 5:10 p.m., KSFY reported. At the time, her family was gathered around her bed, reading the Bible.
"We read Psalm 103. We didn't quite get done," Lee De Lange said. "She passed away very, very peacefully. Incredibly peacefully."
Lee said his brother told his father, 86, "mom's gone to heaven" and that it was OK to let go and join her.
And that's just what he did. Henry De Lange, who was fighting prostate cancer, died 20 minutes later, at 5:30 p.m. His children recall him briefly opening his eyes, directing his gaze at Jeanette before taking his last breath.
A funeral will be held for the couple Monday in Platte, South Dakota, KSFY reported.