Libertarian presidential candidate Gov. Gary Johnson was interviewed on Fox News' The Greg Gutfeld Show on Saturday evening - and things got a little "goofy."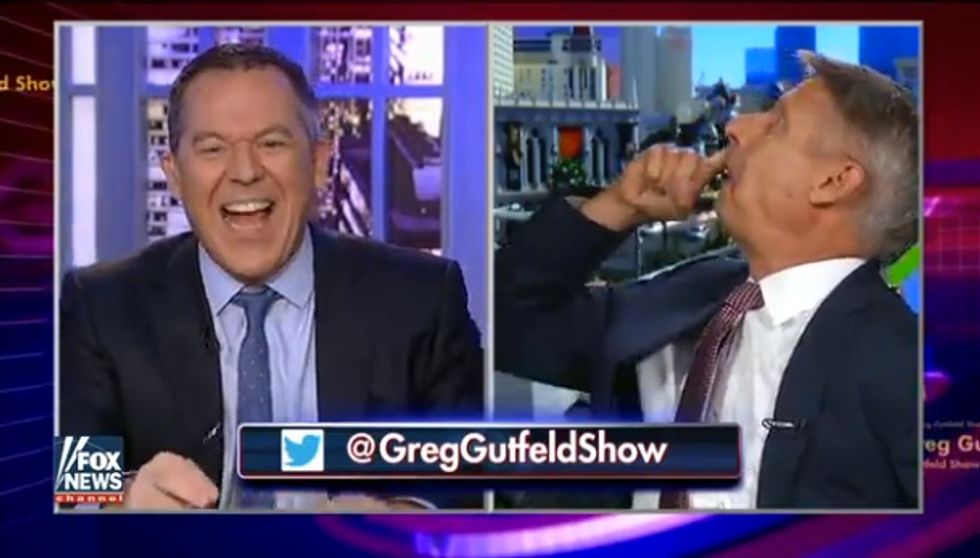 Image source: Fox News
"I want to ask you – everybody always asks you what's the first thing you would do as president," Gutfeld began. "I want to ask you: What's the third thing?"
"Boy, this is just as irrelevant as it always has been," Johnson said. "I've missed this, I've really missed this. Man, this is really great. Thanks, man."
Johnson said that he wants to "reduce the size of government."
"I believe that less money out of my pocket is a good thing and then stand up for civil liberties," Johnson said. "So included in those civil liberties, of course, legalizing marijuana, marriage equality, women's right to choose, and then let's stop with the military interventions with regime change that has resulted in a less safe world. How is that for starters? Let's, let's, let's bring the world together with free markets."
Gutfeld speculated that given many voters' dissatisfaction with both Republican presidential candidate Donald Trump and Democratic presidential candidate Hillary Clinton,
Johnson may be the "sleeper candidate" in the race.
"You are a two-term governor but you are also kind of goofy," Gutfeld said. "Right?"
In response, Johnson mimed yawning.
"Sleeper candidate," Johnson muttered. "Sleeper candidate. What's goofy? What's goofy, man?"
He then pretended to put his finger up his nose.
"You are the next president!" Gutfeld declared.
Johnson tweeted that he "had some fun" with Gutfeld.
Sometimes you just have to lighten up. Had some fun with @greggutfeld on @FoxNews... https://t.co/DTYf2Cv8DS via @FoxNewsInsider #teamgov

— Gov. Gary Johnson (@GovGaryJohnson) August 14, 2016
Watch below:
—
Follow the author of this story on Twitter and Facebook: