Former New York City Mayor Rudy Giuliani said Monday there were no "successful" attacks carried out by radical Islamic terrorists in the eight years before President Barack Obama and Secretary of State Hillary Clinton assumed office.
"Under those eight years, before Obama came along, we didn't have any successful radical Islamic terrorist attack in the United States," Giuliani said ahead of a speech on foreign policy from Donald Trump, the Republican nominee for president. "They all started when Clinton and Obama got into office."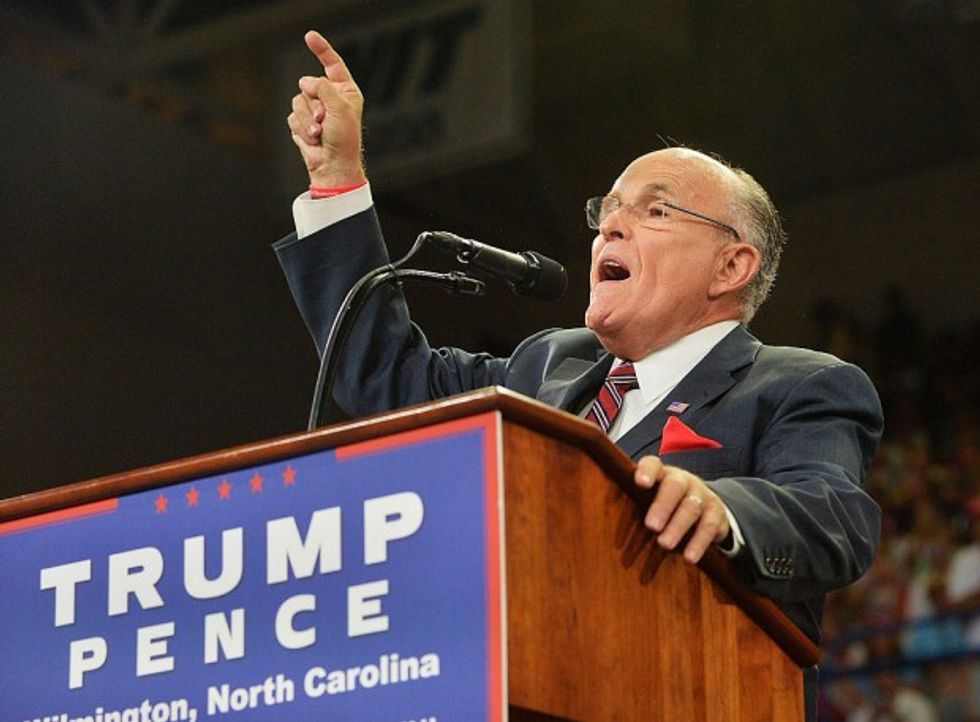 Photo by Sara D. Davis/Getty Images
Some were confused by the claim, given Giuliani was, of course, the mayor of New York City at the time of the Sept. 11 attack in 2001. In fact, in the wake of the assault, Giuliani emerged as "America's mayor." He was called out on Twitter for the technicality.
Obviously Giuliani knows that 9/11 happened. The framing around Trump sounds weirdly—even when it's unintentional—like life started in 2008.

— Katherine Miller (@Katherine Miller) 1471285974.0
Giuliani's comments were intended to offer praise to Indiana Gov. Mike Pence, Trump's vice presidential running mate, for his work in Congress after 9/11.
"He's a member of the Foreign Affairs and Judiciary committees, and during the time of Sept. 11, when we went through the worst foreign attack in our history, since the War of 1812," the former mayor said.
He continued, "Remember, we didn't start this war. They did. We don't want this war. They do. And they didn't start it even in 2001. They attacked the World Trade Center in 1993 and they attacked it under the ideology of radical Islamic extremism to create a caliphate."
In Giuliani's view, Pence "understands" the threat the U.S. faces from terrorists.
Former Florida Gov. Jeb Bush, a one-time contender for the Republican presidential nomination, was criticized by Trump for making a similar comment on the campaign trail. Bush suggested his brother, former President George W. Bush, "kept us safe" when he was in the White House.
"The World Trade Center came down during your brother's reign — remember that," Trump charged during a February debate, after his former opponent repeated the line.
See Giuliani's comments below:
Video of Rudy saying we didn't "have any successful radical Islamic terrorist attacks in the U.S." before Obama: pic.twitter.com/3tC1InfZj0

— andrew kaczynski (@BuzzFeedAndrew) August 15, 2016
–
Follow the author of this story on Twitter: