The New York Post reported Monday morning that an arrest has been made following Saturday's double-murder of a New York City imam and his associate.
A 35-year-old male suspect was arrested Sunday night in Brooklyn, hours after a surveillance video of the murder surfaced, according to the Post.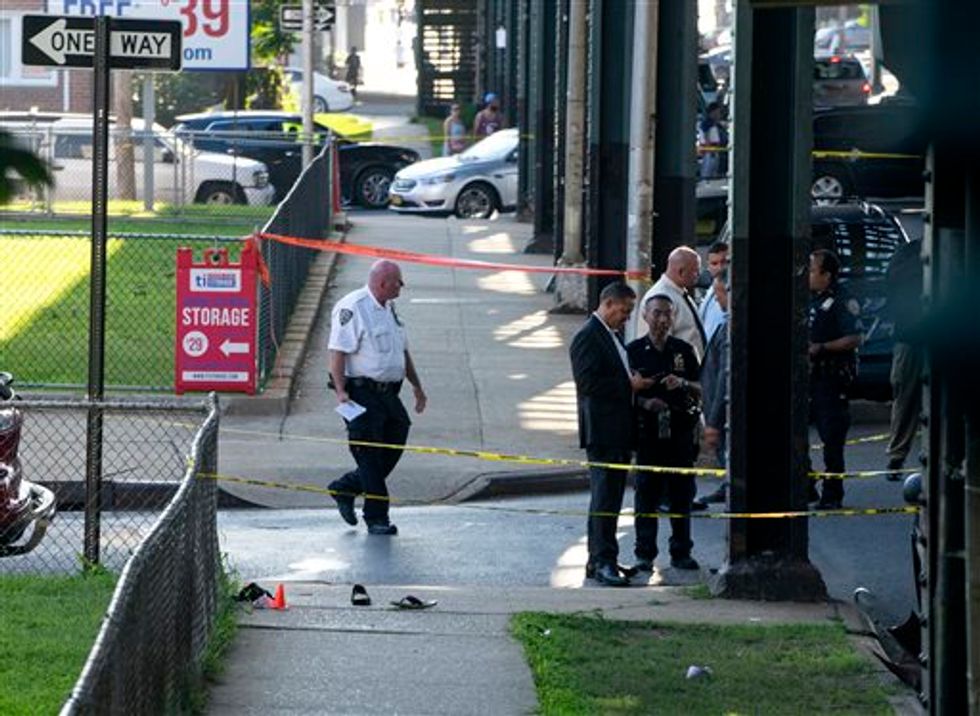 Sandals mark the Saturday crime scene not far from the Al-Furqan Jame Masjid Mosque in the Ozone Park neighborhood of Queens, New York, where the leader of a New York City mosque was fatally shot and an associate was wounded in a brazen daylight attack. (AP Photo/Craig Ruttle)
Police arrested the man, who had not yet been charged, after tracking his vehicle, an old-model Chevy Trailblazer similar to the one the killer was spotted in as he fled the crime scene.
Fox News also reported that police detained a man Sunday evening in connection with the fatal shootings. Officials told Fox, however, that the individual is not considered a suspect in the murders, which occurred in broad daylight in Queens.
The unnamed man was reportedly brought in for questioning on an unrelated matter before authorities questioned him about the imam's death. According to Fox, that man remained in custody Monday morning in connection with the former unrelated matter.
It is unclear whether the the New York Post and Fox were describing the same individual in their reports.
Imam Maulama Akonjee, 55, and his associate Thara Uddin, 64, were killed Saturday near their Queens mosque. Both men were shot in the head as they left afternoon prayers wearing their traditional religious clothing.
Help ID this man wanted for info regarding double homicide in Queens. https://t.co/f5tOeNwcWH @NYPD106Pct pic.twitter.com/EO8V5DtOn5

— NYPD NEWS (@NYPDnews) August 15, 2016
Police released a sketch Sunday of a dark-haired, bearded man wearing glasses. Witnesses described the shooter to police as a man with a medium complexion.
Investigators have yet to establish a motive for the killing, but police told the Post that they believe the assailant "knew the imam and knew his schedule."