Ten years ago, 9-year-old Katie Ledecky met U.S. Olympic swimmer Michael Phelps at an autograph signing.
Fast-forward a decade to the 2016 Rio Olympics, where Ledecky, 19, scooped up four gold medals of her own, including two world records. Phelps, the most decorated Olympian in the history of the Games, won five gold medals in Rio.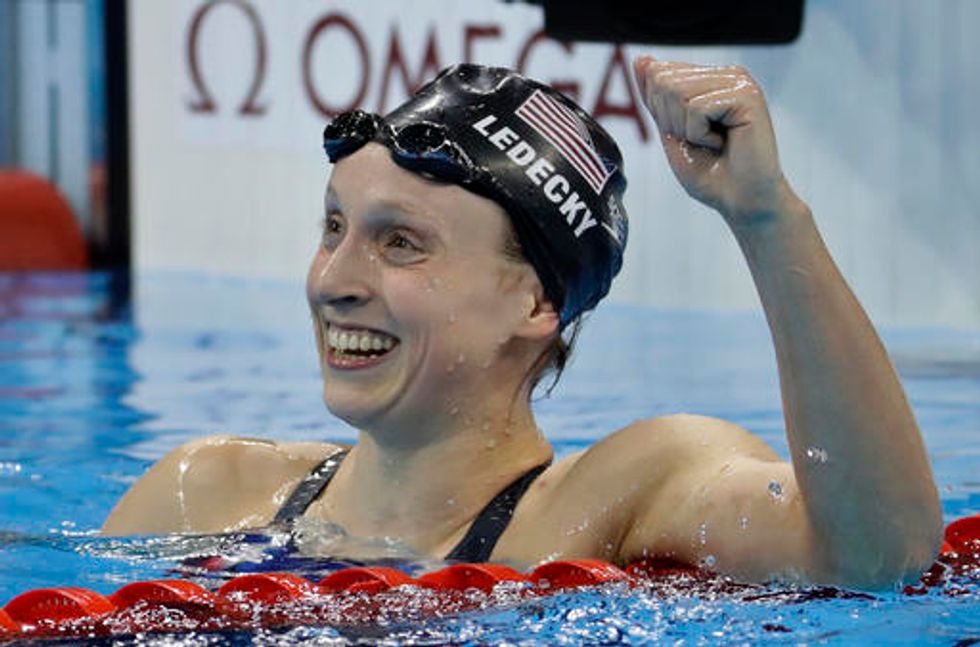 Unites States' Katie Ledecky celebrates after winning gold in the women's 800-meter freestyle Friday at the 2016 Summer Olympics in Rio de Janeiro. (AP Photo/Julio Cortez)
After their victories, the two swimming superstars recreated their 2006 photo together, this time adding a slight twist: In the new photo, Phelps is the eager fan having his Rio poster signed by the legendary Ledecky.
.@katieledecky, @MichaelPhelps re-create famous autograph photo 10 years later! https://t.co/YmAPkmK0s5 #RioTODAY pic.twitter.com/SSanpCM6Yt

— TODAY (@TODAYshow) August 15, 2016
"We are in great shape, not only with Katie but with the team that we have now," Phelps, who will retire after Rio, said Monday on NBC's "Today." "Katie's doing her thing, and she's breaking records every time she gets in the pool. It's been an honor for me to be a part of the team with her and some of the younger guys that we have coming up in the sport that are going to take over."