Carolina Panthers quarterback Cam Newton came under a flurry of harsh criticism on Monday after he denied football fans are "racist" toward him and said America is now "beyond" race.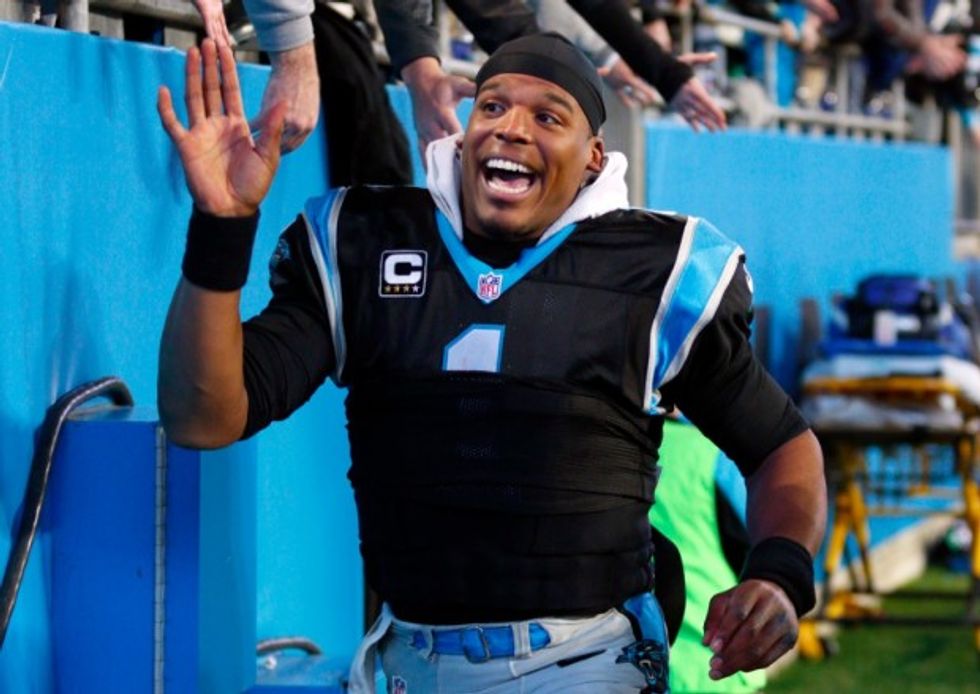 Carolina Panthers' Cam Newton (1) celebrates his team's 15-1 regular season record following an NFL football game against the Tampa Bay Buccaneers in Charlotte, N.C., Sunday, Jan. 3, 2016. The Panthers won 38-10. (AP Photo/Bob Leverone)
"It's not racism," Newton said of the criticism he gets from NFL fans. "Everybody's entitled to their own opinion."
GQ writer Zach Baron pressed the issue, asking the star QB "what is it" if it's not racism. He also reminded Newton of his January remarks in which he said: "I'm an African-American quarterback that may scare a lot of people because they haven't seen nothing that they can compare me to."
"I don't want this to be about race, because it's not. It's not. Like, we're beyond that. As a nation," Newton replied.
"You really think so?" the writer interjected.
Newton then replied, "Yeah. I mean, you bring it to people's attention. But after that, that's it."
The backlash to Newton's racism comments was quick and unforgiving.
Unapologetically Black twitter really going to turn on Cam Newton now lmao

— AJ (@AJ) 1471274750.0
If Cam Newton doesn't check himself, he's going to become the next OJ Simpson. You are still black, bruh.

— 𝚂𝚑𝚊𝚖𝙳𝚎𝚕𝚞𝚡𝚎 ◉ (@𝚂𝚑𝚊𝚖𝙳𝚎𝚕𝚞𝚡𝚎 ◉) 1471274741.0
Cam Newton needs to spend more time dressing like a middle aged mom tryna get back out there and less time discussing race

— 11 (@11) 1471272659.0
Take away the fame & the money let's see if Cam Newton still thinks we are beyond racism.

— Dre. (@Dre.) 1471271485.0
Read Newton's entire GQ interview here.
---