Florida Sen. Marco Rubio (R) addressed conservative Christian leaders Friday at the Rediscovering God in America Renewal Project event in Orlando, Breitbart News reported. In his speech, Rubio challenged pastors to focus on loving those in the LGBT community instead of spending all their time condemning behavior they find objectionable.
The Catholic senator was careful to first note that he believes true marriage can exist only between a man and a woman before urging those present to refrain from using "heated rhetoric" in their discussion of lesbian, gay, bisexual and transgender Americans.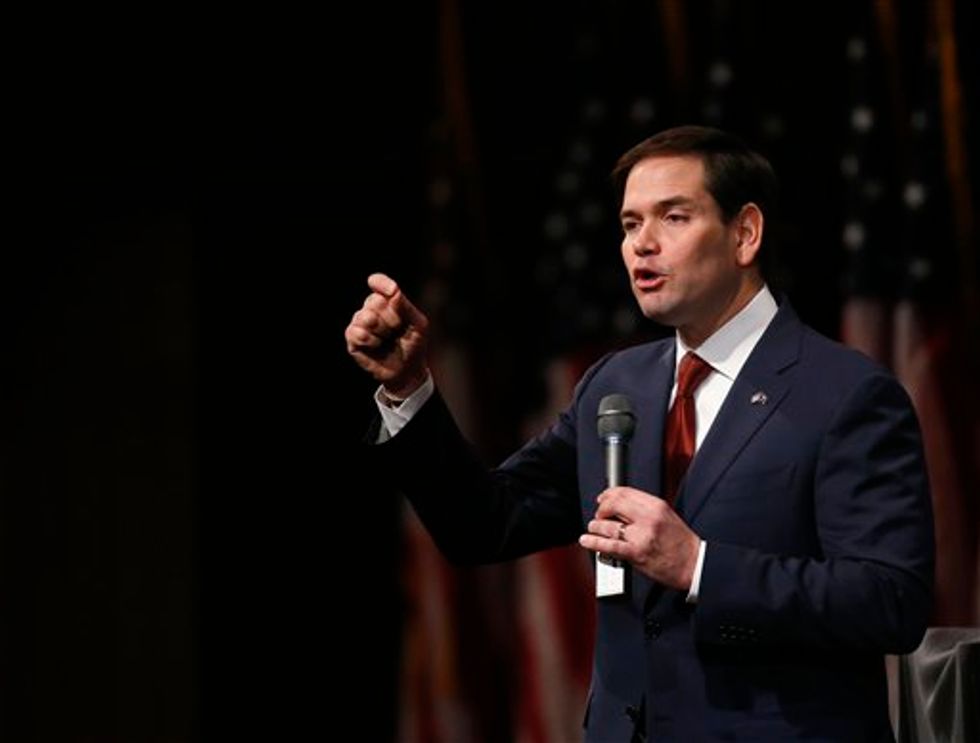 AP Photo/Paul Sancya
Rubio, who is running for re-election, asked the audience to recall scripture's commandment to love one's neighbor as oneself.
"In order to love people, you have to listen to them," he said. "You have to understand their perspective, their hopes and their dreams and their fears and their pain."
Rubio even said that, though he stands by the biblical understanding of marriage, the love that same-sex couples share is authentic, if misguided:
To love our neighbors in the LGBT community, we should recognize that even as we stand firm in the belief that marriage is the union between one man and one woman, there are those in that community and in same-sex relationships whose love for one another is real, and who feel angry and humiliated that the law did not recognize their relationship as a marriage.

To love our neighbors, we must recognize that many have experienced sometimes, severe condemnation and judgment from some Christians. They have heard some say that the reason God will bring condemnation on America is because of them. As if somehow, God was willing to put up with adultery, and gluttony, and greed and pride, but now, this is the last straw.

To love our neighbors, we must abandon a spirit of judgment. Do not judge or you will be judged. For in the same way you judge others you will be judged. And with a measure you use it will be used to measure you. And we should remember not to ignore the plank in our own eye.
"I want to be clear with you: Abandoning judgment and loving our LGBT neighbors is not a betrayal of what the Bible teaches, it is a fulfillment of it," Rubio continued.
He added that "Jesus showed us that we do not have to endorse what people do in order to accept them for who they are — children of a loving and a merciful God," citing the biblical example of Jesus pardoning a woman accused of adultery.
Rubio recalled the June terrorist attack on a gay Orlando nightclub, noting that Christians who rallied around the LGBT community during that time of grief were acting in accordance with their faith.
After the attack, Rubio attended a prayer service for the victims at the First Baptist Church. He recalled some people remarking that it was unusual for them to feel welcome in a place of worship.
Rubio ended his address by exhorting Christians to love the gay community with the love that Christ shows all sinners.
"If any of us, myself included, in any way, have ever made anyone feel that Christianity wants nothing to do with them, then I believe deeply that we have failed deeply to represent our Lord Jesus Christ who time and again went out of his way to reach out to the marginalized and to the forgotten of his time," Rubio said.