NBC Entertainment chairman Robert Greenblatt blasted Donald Trump in a private Facebook post, calling the network's one-time "Apprentice" host "toxic" and "demented."
Greenblatt's post laments the country's "sad state of affairs thanks to a pompous businessman turned reality TV star" who believes speaking his mind is "refreshing."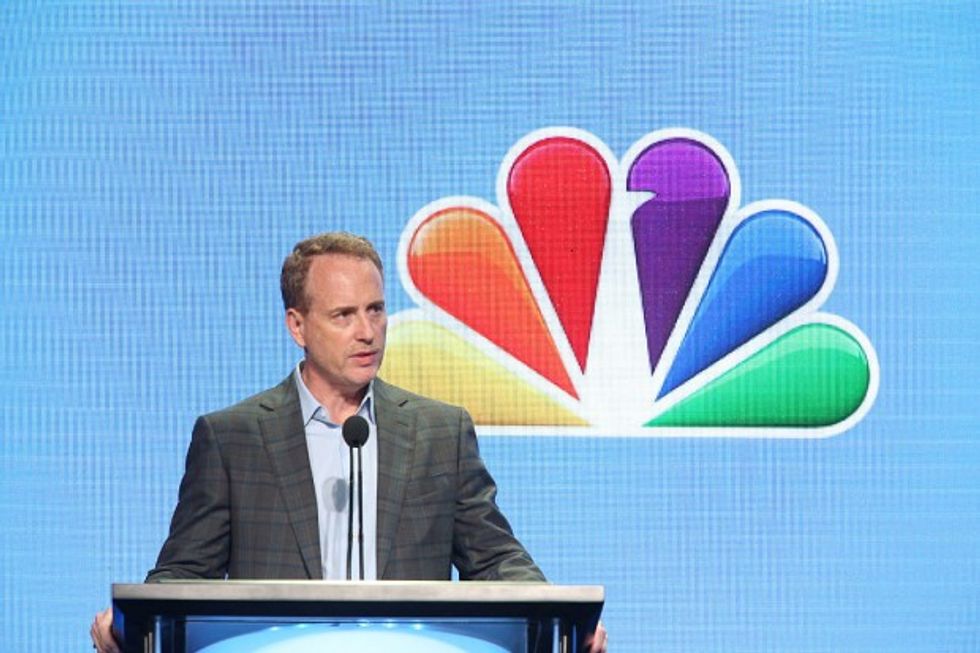 Robert Greenblatt, Chairman of NBC Entertainment speaks onstage during the NBCUniversal portion of the 2016 Television Critics Association Summer Tour at The Beverly Hilton Hotel on August 2, 2016 in Beverly Hills, California. (Photo by Frederick M. Brown/Getty Images)
"It's actually corrosive and toxic because his 'mind' is so demented; and his effect will unfortunately linger long after he's been told to get off the stage," he wrote in the Monday post, which did not refer to the Republican presidential nominee by name.
While Greenblatt does not oversee any of the NBC News operation, the revelation will likely provide fodder for critics who feel the media skews largely to the left when it comes to politics. His Facebook message also knocked Trump for his ratings prowess, writing the billionaire's show "consistently ran LAST in its time period, by the way."
When it first began in 2004, "The Apprentice" was very successful for NBC, but in the final iteration of "Celebrity Apprentice" in February 2015, the show came in fourth place, losing to shows like ABC's "The Bachelor" and CBS' "Two Broke Girls."
A person familiar with Greenblatt's private page said Tuesday the post came from the NBC executive. The person, who lacked authority to discuss the matter publicly, spoke on condition of anonymity.
Trump's campaign did not immediately return a message seeking comment
NBC, part of Comcast Corp. subsidiary NBCUniversal, declined comment Tuesday, as did Comcast.
Greenblatt took over as entertainment chairman in 2011. In June 2015, NBCUniversal said it was cutting its business ties with Trump because of his "derogatory statements" about immigrants.
The network dropped the Miss USA and Miss Universe pageants that were a joint venture between NBC and Trump, noting that he already had said he wouldn't participate in "The Apprentice."
Arnold Schwarzenegger is set to take over as host in January.
But NBC Entertainment's attitude toward putting Trump on the air hasn't been consistent.
Six months after ending its relationship with Trump, the network featured him as host of "Saturday Night Live" — and earned the show's best ratings in two years.
At a news conference in January, Greenblatt said if NBC never had guests that its executives publicly disagreed with that "we would be out of business."
"We're not in business with him, but love him or not, he's one of the most important political figures of our time," Greenblatt said.
Earlier this month, Greenblatt told a TV critics meeting he took a skeptical view of the idea that "Apprentice" served as a launching pad for the presidential bid that Trump began in June 2015.
"We were happy to have a show that was doing really well with a guy who was a big TV star," Greenblatt said. "I don't think there's that much of a correlation of one to the other. ... That's what great about this country."
He likened Trump's successful run on " Apprentice" to Ronald Reagan's movie career and how it served as a useful prelude to his own second act in politics: "'Bedtime for Bonzo' helped make Reagan a national prominent figure," Greenblatt said.
Greenblatt's Facebook comments were first reported by the New York Post.
—