TheBlaze TV's Buck Sexton was outmanned on CNN Tuesday night — but that didn't stop him from making a passionate case against Hillary Clinton regarding her ongoing private email scandal.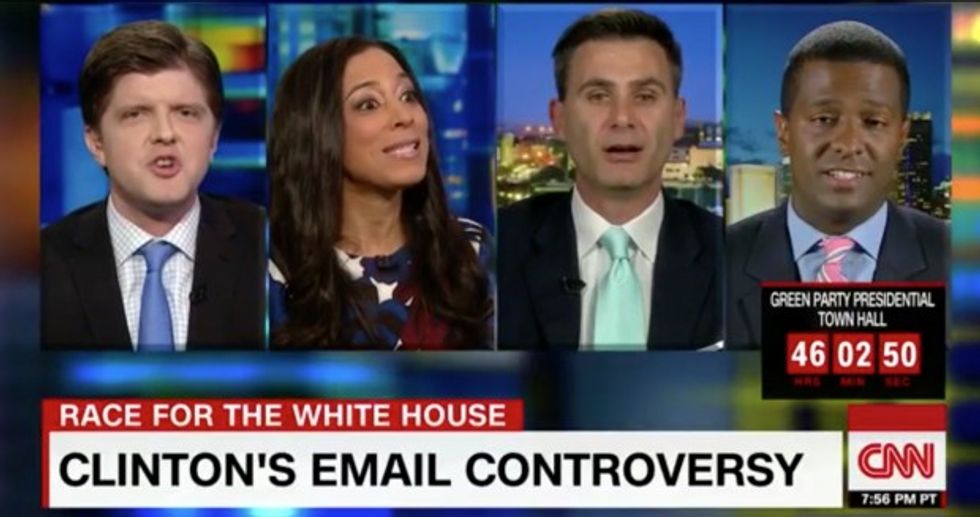 TheBlaze TV's Buck Sexton battles a CNN panel over Hillary Clinton's email scandal. (CNN screengrab)
Sexton got into a heated back-and-forth exchange with liberal political commentator Angela Rye, who argued the email controversy has been a waste of time and taxpayer dollars.
"It's not pointless! What she did is reckless!" Sexton said. "I'm sitting here being filibustered on an issue that there's really not much of a debate over."
A visibility frustrated Rye quickly shot back, "The only one filibustering is you!"
Sexton denied the Clinton email scandal is rooted in partisanship and argued even FBI Director James Comey called the former secretary of state's actions "extremely careless."
"They were considering criminals charges, up to possibly felony charges, for what she did. This is not up for debate or discussion," he added. "Anybody who's held a clearance…would tell you, if they did what Hillary Clinton did, they would definitely be fired, they would definitely have their clearance stripped and they would be worried about being criminally prosecuted."
CNN anchor Don Lemon correctly pointed out that Clinton was never actually prosecuted, which seems to be a "trump card" for her campaign.
"They reprimanded her, so I don't know what else you want to happen!" Rye interjected.
"A reprimand is nothing," Sexton responded.
Watch the tense segment via CNN below:
.@HillaryClinton's email scandal, is @BuckSexton being filibustered, & @angela_rye's one word for the #GOP panelists https://t.co/Uzs2I5SmMu

— CNN Tonight (@CNNTonight) August 16, 2016
---