Moments after gunfire ripped through a family's home in Kansas City early Saturday morning, 9-year-old Jayden Ugwuh woke up and ran from his bedroom.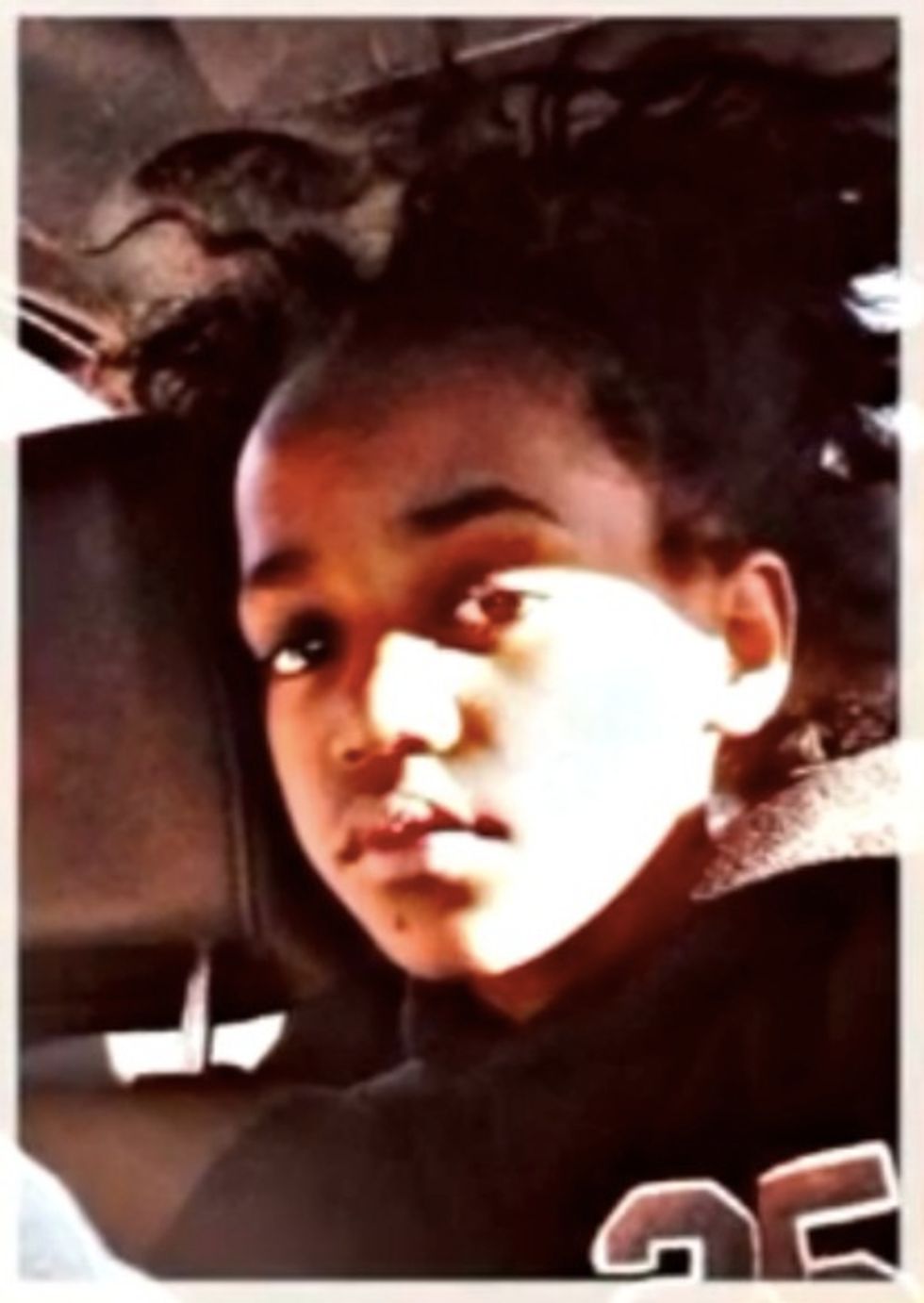 Image source: WDAF-TV
But after noticing his 8-year-old cousin Montell Ross, who also was sleeping in the bedroom, wasn't with him, Jayden went back and got Montell — and then they were both fatally hit by bullets.
Jayden's heartbroken father Jayson Ugwuh told WDAF-TV that after his son was shot, Jayden went straight for his big brother who was asleep in another room, snuggled up next to him and died in his arms.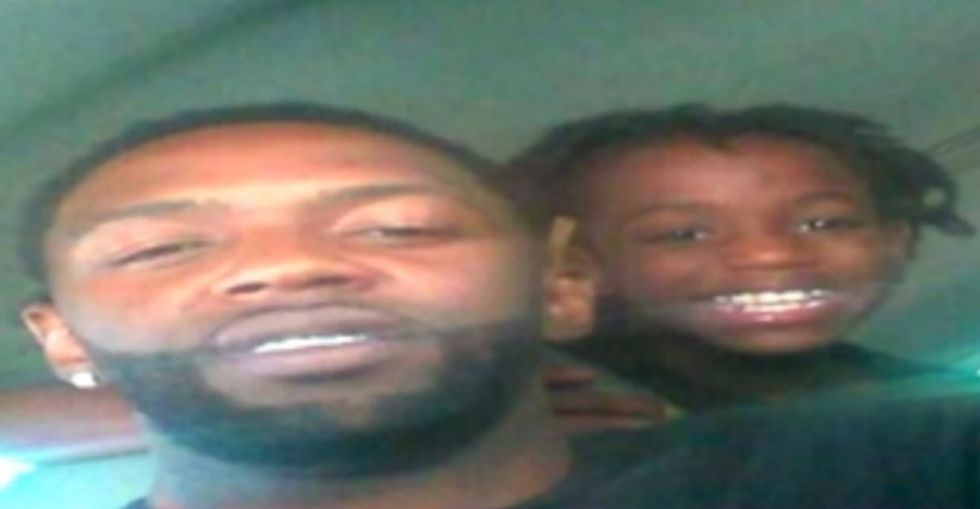 Jayson Ugwuh and his son Jayden (Image source: WDAF-TV)
"Didn't even cry, just got hit and ran and laid up under his big brother, you know," Jayson Ugwuh shared with the station. "Like he knew exactly where to go for comfort, you know what I'm saying."
Jayden's big brother, 12-year-old Jayson Jr. appeared on camera — tears streaming down his cheeks — but chose not to speak at that point. But he did talk to WDAF off camera, telling the station that Jayden's eyes were open as he was laying down with him but that he knew Jayden had passed away.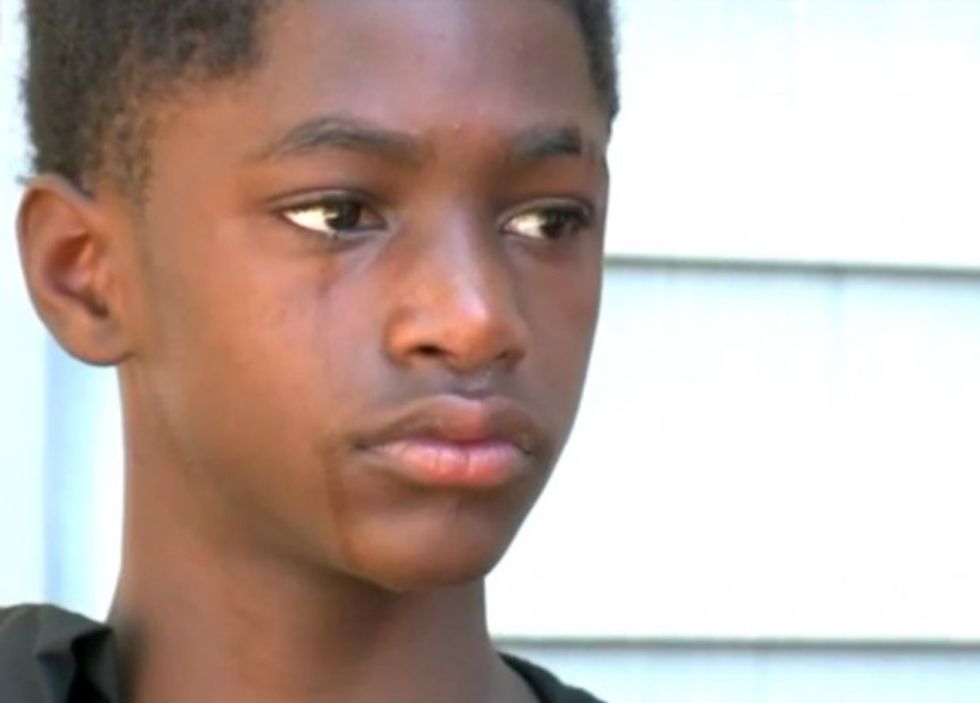 Jayson Jr. (Image source: WDAF-TV)
"I got to deal with that and still raise them, but what can I say to him, cause he actually held him, he held his cold body, you know what I am saying?" Jayson Ugwuh told the station regarding Jayson Jr. "How do I teach my son to cope with that when I can barely cope with it?"
Jayden and Jayson Jr. lived with Montell and other cousins — six children in all — with their mothers in the house, and Jayson Ugwuh said that was the one place he figured their lives wouldn't be threatened.
"He was in his safe spot, his home," Jayson Ugwuh said. "This came to his home. So where else are you safe at if you are not safe where you sleep and wake up and eat. What can you do?"
He added that earlier that night, Jayden called him and asked him to pick him up, but Jayson Ugwuh — a barber — had to work early and would pick him up the next day.
"I feel like I put my job before him," Ugwuh told WDAF, "and I will regret that for the rest of my life."
Besides loving rap, super heroes, drawing and badly wanting to fly, Jayden also helped out his dad and swept up the barber shop, saving his pennies for something special, the station said.
One day he said Jayden smiled as he pulled out $175, saying it should be put into their RV to get it running again — which also made his dad cry at the time.
And Ugwuh can't bring himself to refer to his son in the past tense.
"He's not even gone to me. It's still not real, it's fresh. I can't talk about him as if he's gone," Jayson Ugwuh told WDAF, which added that police are still looking for suspects. "I don't think I'll ever be able to do that."