Green Party presidential nominee Dr. Jill Stein has a new theory on why Hillary Clinton wasn't indicted for her use of a private email server during her tenure as secretary of state.
"Part of the problem with Hillary's abuse of the rules — she was sort of too big to jail," Stein said of the Democratic presidential nominee during a CNN town hall event Wednesday night. "And she violated those rules with a sense of impunity and she violated them with a purpose, which she stated herself: she wanted her private information private."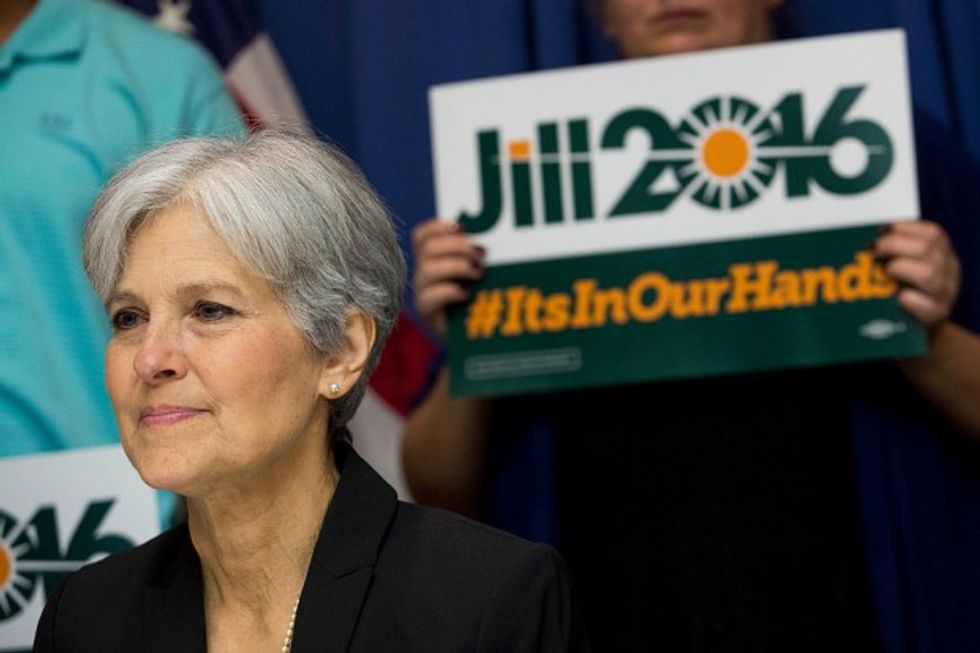 Jill Stein waits to speak before announcing that she will seek the Green Party's presidential nomination, at the National Press Club, June 23, 2015 in Washington, DC. Stein also ran for president in 2012 on the Green Party ticket. (Drew Angerer/Getty Images)
The Green Party candidate told host Chris Cuomo that "half" of the emails Clinton deleted "were private."
"If someone is working for you and half of their emails on the job are for their private personal foundation, it really raises questions," she said.
Stein, a former clinical physician, said "serious questions" remain unanswered about Clinton's judgment, including the assertion she prioritized her personal interests alongside national interests. She also questioned the Democrat's "trustworthiness in a job where she will have her finger on the button," speaking of the nuclear codes accessible to the president.
"To people who don't like Donald Trump, you have more options out there than Hillary Clinton," Stein pitched.
Wednesday evening's town hall marks the first major national event for the Green Party this year.
Watch Stein's comments about Clinton below:
Green Party's @DrJillStein suggests Hillary Clinton was "too big to jail" at #GreenTownHall https://t.co/1CgsDP5qwU https://t.co/l9L94GVj0F

— CNN (@CNN) August 18, 2016
–
Follow the author of this story on Twitter: