Jerry Falwell, Jr., president of Liberty University and an early supporter of Donald Trump, is calling the Republican nominee today's "Winston Churchill," while titling Hillary Clinton and President Barack Obama the "Neville Chamberlains" of this generation.
In a Washington Post op-ed published late Friday, Falwell asserts the policies of the Obama administration — and the prospect of a Clinton presidency — is reminiscent of the late 1930s.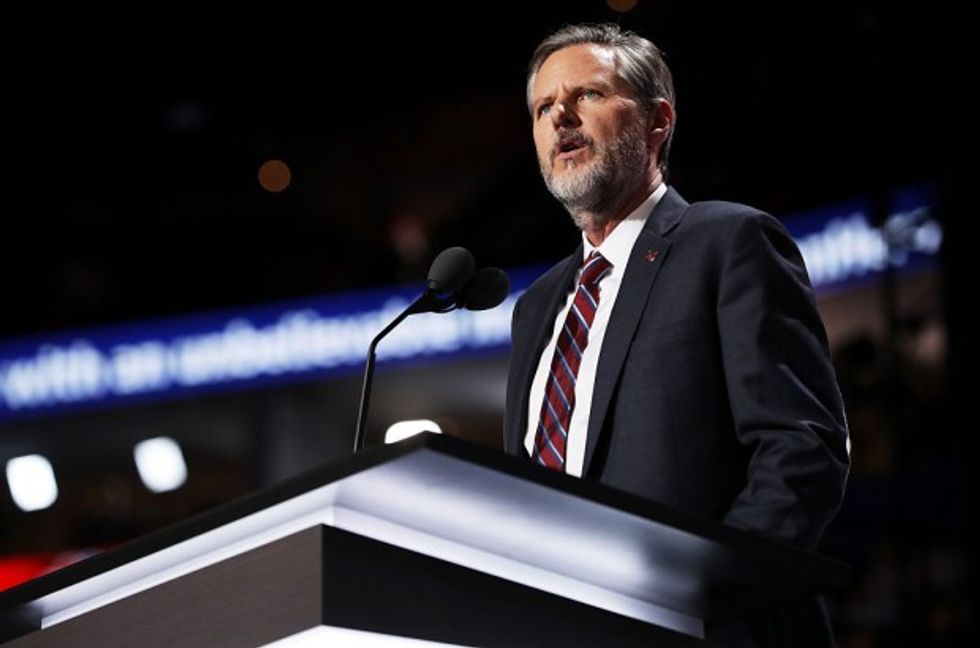 Photo by Chip Somodevilla/Getty Images
"We could be on the precipice of international conflict like nothing we have seen since World War II," he wrote. "Obama and Clinton are the Neville Chamberlains of our time."
The Christian university leader compared the millions of dollars Iran has received from the U.S. to that of "Chamberlain's deal with Hitler in 1938, when the British prime minister declared 'peace for our time.'" He also called out Obama and Clinton for policies that have brought about $19 trillion in debt "that our children and grandchildren will somehow have to find a way to repay."
"Thank God," Falwell wrote, "we now have the opportunity to elect a strong leader, one who is not afraid to call the enemy by its name and to take the battle to that enemy if necessary," later suggesting that doubling down on the policies Democrats espouse would be "the definition of insanity."
Falwell went on to describe Trump — with his "kindness, generosity and bold leadership qualities" — as a man who resembles Winston Churchill, who succeeded Chamberlain as prime minister after Hitler reneged on the peace agreement. Churchill went on to be known as the "British bulldog."
"As Churchill did, Trump possesses the resolve to put his country first and to never give up in a world that is increasingly hostile to our values," Falwell wrote, calling on all Americans to unite behind the "blue-collar billionaire" and his running mate, Indiana Gov. Mike Pence.
Toward the end of the editorial, Falwell called out GOP leaders like Sen. Susan Collins (Maine), who earlier this month said Trump is "unworthy" of the presidency, telling unconvinced Republicans to "stop whining about Trump's temperament and start focusing on Clinton's corruption."
The well-known lawyer concluded his article with a nod to former President Ronald Reagan and the infamous Iran hostage crisis that began in November 1979 and ended in January 1981.
"Remember when Iran held American hostages for 444 days, only to release them the day Ronald Reagan took office?" Falwell wrote. "Expect those kinds of results under Donald Trump's leadership."
–
Follow the author of this story on Twitter: