Maine Sen. Susan Collins, a Republican who's been in office since 1997, announced Monday night in a scathing Washington Post editorial that she will not be voting for her party's nominee, Donald Trump.
"This is not a decision I make lightly, for I am a lifelong Republican," she wrote. "But Donald Trump does not reflect historical Republican values nor the inclusive approach to governing that is critical to healing the divisions in our country."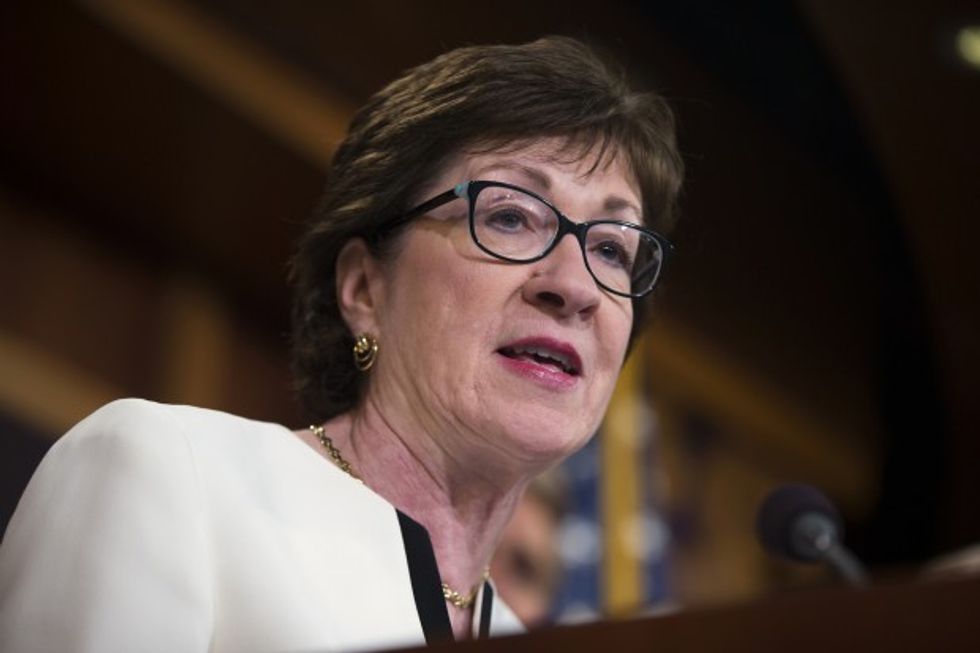 Sen. Susan Collins, R-Maine speaks during a news conference on Capitol Hill in Washington, Tuesday, June 21, 2016, to unveil a new gun legislation proposal. (AP Photo/Evan Vucci)
Collins, comparing Trump's success in the Republican primary to that of Sen. Bernie Sanders, who rivaled Hillary Clinton on the Democratic side, said the billionaire businessman connected "with many Americans who felt that their voices were not being heard in Washington and who were tired of political correctness."
However, she went on to say that upending political correctness differs from "showing complete disregard for common decency." Instead of stopping at candor, Collins asserted Trump "opted for a constant stream of denigrating comments, including demeaning Sen. John McCain's (R-Ariz.) heroic military service and repeatedly insulting Fox News host Megyn Kelly."
In her most straight-forward rebuke of Trump, Collins claimed the candidate is "unworthy" of the office of president because of his "disregard for the precept of treating others with respect,"  a principle the senator believes "should transcend politics."
While Collins was at one time open to supporting Trump, she outlined the three incidents that — for her — made the New York real estate developer insupportable.
The first ordeal was Trump's mockery of a reporter with disabilities, which is now featured on a Clinton campaign ad knocking Trump for his brash rhetoric. Trump has denied mocking the reporter and said the journalist he was referring to "should stop using his disability to grandstand and get back to reporting for a paper that is rapidly going down the tubes."
The next incident was Trump's issue with Judge Gonzalo Curiel, an Indiana-born federal judge of Mexican heritage who is presiding over a case involving Trump University. Trump claimed Curiel could not be objective because of his background. Collins said the Trump's allegations against the judge "demonstrated a profound lack of respect not only for the judge but also for our constitutional separation of powers, the very foundation of our form of government."
Collins gave up on standing by Trump when the Republican nominee engaged in a feud with the parents of a Muslim U.S. Army captain who was killed in Iraq in 2004 by a suicide bomber.
"Rather than honoring their sacrifice and recognizing their pain," the lawmaker wrote, "Mr. Trump disparaged the religion of the family of an American hero. And once again, he proved incapable of apologizing, of saying he was wrong."
While Collins, who claimed her Republicanism is "part of what defines me as a person," said she understands the rise of Trump, and identifies the dissatisfaction voters have with politicians, she concluded she cannot support Trump just because he's the GOP nominee for president.
"I revere the history of my party, most particularly the value it has always placed on the worth and dignity of the individual, and I will continue to work across the country for Republican candidates," Collins wrote. "It is because of Mr. Trump's inability and unwillingness to honor that legacy that I am unable to support his candidacy."
Collins did not reveal who she will support instead of Trump. Her editorial was published the same day former CIA official Evan McMullin launched a conservative third-party bid for president.
—
Follow the author of this story on Twitter: