A group of aggressive protesters were caught on video harassing and assaulting Trump supporters as they left a fundraising event on Friday in Minneapolis.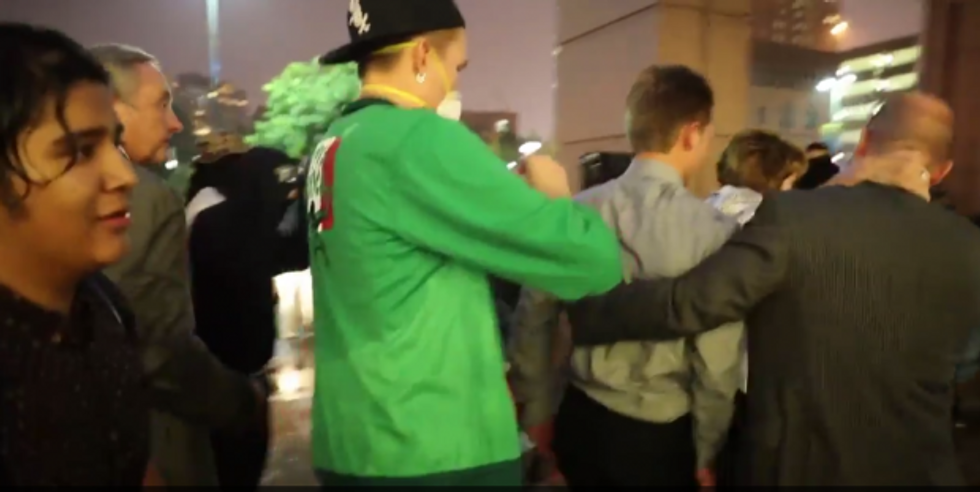 (Screengrab via Twitter)
In a video posted by Minneapolis Star Tribune photographer Renee Jones, protesters can be seen banging on the doors of the Minneapolis Convention Center, punching an elderly man and aggressively harassing a group leaving the event.
"Racist!" one protester shouts in the video.
"This is how we treat racists!" another screams.
As the American Mirror's Kyle Olson described it, the Trump supporters were essentially forced to run a "gauntlet" in order to leave.
Some protesters got aggressive at the end of the night as Trump supporters left Minneapolis fundraiser. @StarTribune pic.twitter.com/gNcZGYhqBm

— Renee JonesSchneider (@reneejon) August 20, 2016
The fundraiser was closed to the media and Trump did not speak to reporters before or after the event. Some of his remarks were broadcast on the live-streaming app Periscope.
"If I could win a state like Minnesota, the path is a whole different thing. It becomes a much, much different race. We're going to give it our ­greatest shot," Trump reportedly said.
---