© 2023 Blaze Media LLC. All rights reserved.
I Know a Bigot When I See a Bigot': Black Trump Surrogate and Black NYT Columnist Clash in Heated Debate
"And I know someone that doesn't tell the truth on national TV when I see it, sir."
There wasn't much middle ground to be found between Charles M. Blow of the New York Times and Bruce LaVell of the National Diversity Coalition for Trump on Monday night.
The two black men clashed sharply on "CNN Tonight" over how black voters should respond to Republican presidential nominee Donald Trump.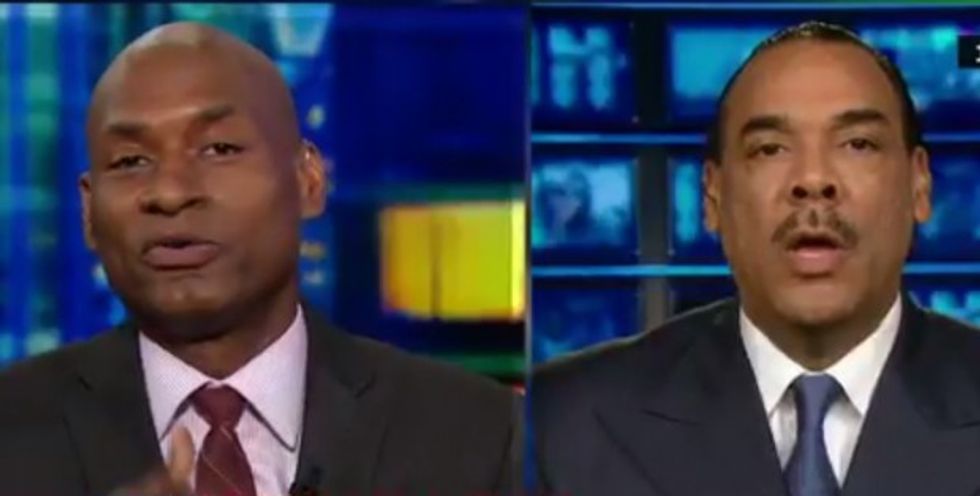 From left: Charles M. Blow and Bruce LaVell (Image source: Twitter)
"Donald Trump is a bigot," Blow said. "There's no other way to get around it. Anybody who ... accepts that, supports it. Anybody who supports it is promoting it. And that makes you a part of the bigotry itself." He later added, "Your party has now decided that ... this con-man is your frontman. And you have to decide whether or not you want to follow that."
LaVell began to respond, saying, "We knew back last year that the Clinton campaign was gonna try to bait and create this false facade of Donald Trump being someone that he's not."
Blow interrupted, angrily telling LaVell he's "not part of the Clinton campaign, I'm a black man in America, and I know a bigot when I see a bigot. And you are supporting a bigot, and that makes you part of the bigotry that is Donald Trump."
LaVell wasn't having it. "And I know someone that doesn't tell the truth on national TV when I see it, sir," he replied as Blow continued talking over him.
"You can't sit on national TV and call someone a racist, sir," LaVell insisted, adding that he was "sorry" Blow was "so misinformed." LaVell went on to say that he'd rather debate other issues such as terror, debt and the economy as opposed to "stuff about race all the time that's totally false."
Check out the exchange:
Watch fiery debate over Donald Trump's outreach to black voters:@CharlesMBlow and @NDCTrump join CNN's @donlemonhttps://t.co/No6vZwrXwZ

— CNN Tonight (@CNNTonight) August 23, 2016
Want to leave a tip?
We answer to you. Help keep our content free of advertisers and big tech censorship by leaving a tip today.
Sr. Editor, News
Dave Urbanski is a senior editor for Blaze News.
DaveVUrbanski
more stories
Sign up for the Blaze newsletter
By signing up, you agree to our
Privacy Policy
and
Terms of Use
, and agree to receive content that may sometimes include advertisements. You may opt out at any time.