Syrian President Bashar al-Assad's regime may still have access to chemical weapons, despite multiple promises to destroy the entire stockpile, according to a new report.
The Foreign Policy report details discoveries of precursors for chemical warfare like soman and VX at several locations, including two on the outskirts of Damascus, according to a new 75-page review by the director-general of the Organisation for the Prohibition of Chemical Weapons. The report describes the findings as a "troubling pattern of incomplete and inaccurate Syrian disclosures over the past three years about the scope of the country's chemical weapons program."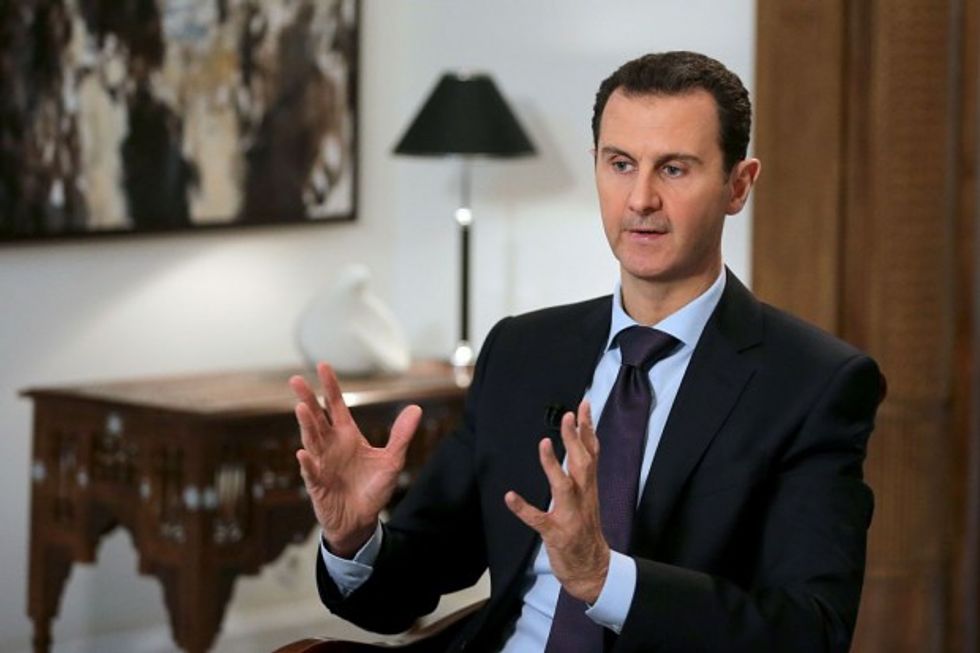 JOSEPH EID/AFP/Getty Images
Summarizing the study, OPCW director-general Ahmet Üzümcü said the majority of the 122 samples from "multiple locations" in Syria "indicate potentially undeclared chemical weapons-related activities."
He went on to say the Syrian government's explanations for the discoveries "are not scientifically or technically plausible, and … the presence of several undeclared chemical warfare agents is still to be clarified," according to the Foreign Policy story.
This development is particularly newsworthy because, in 2013, Assad vowed to stop the use of chemical weapons against his own citizens during the country's ongoing bloody civil war. That same year, Assad's government killed more than 1,400 people with "nerve gas," a class of chemical munitions that includes sarin, after President Barack Obama said doing so would represent crossing a "red line," sparking a military response from the United States.
However, to the chagrin of many on both sides of the aisle, the commander in chief did not launch airstrikes against the Syrian government when the chemical weapons were utilized, instead allowing the Russian leadership to settle the issue.
As Foreign Policy notes, this potential development is a political shot to Obama's diplomacy because the president has used the negotiations with Syria as proof the U.S. can get results without muscular action in the effort to suppress the spread of weapons in the Middle East. Obama has said he is "very proud" of his decision not to launch airstrikes against Syria.
According to the new report, the OPCW determined the Syrian government has not given "sufficient access" to the senior leaders in the chemical weapons program and has failed to account for 2,000 aerial bombs created to deliver mustard gas.
One U.S. diplomat, according to the Foreign Policy report, said the samples of undeclared chemical warfare agents collected by the OPCW are "indicative of production, weaponization, and storage of [chemical warfare] agents by the Syrian military that has never been acknowledged by the Syrian government."
The U.S. and other Western allies are in the process of determining whether the OPCW's findings can be used to argue Syria has violated the United Nations demand, outlined in Resolution 2118, that a country must fully cooperate with international inspectors tasked with holding the Assad leadership accountable to its promise to destroy all chemical weapons.
—
Follow the author of this story on Twitter: