Dr. Ben Carson argued Wednesday morning that anybody who is "elderly" and running for president should disclose their medical records — and that includes both Democratic presidential nominee Hillary Clinton and Republican presidential nominee Donald Trump.
Carson, a former Republican presidential contender who is now an adviser to Trump, was asked on MSNBC's "Morning Joe" about the conspiracies surrounding Clinton's health. The retired neurosurgeon argued that while "physicians and scientists generally don't won't make a diagnosis based on something they see from a distance," both candidates should release their medical health records.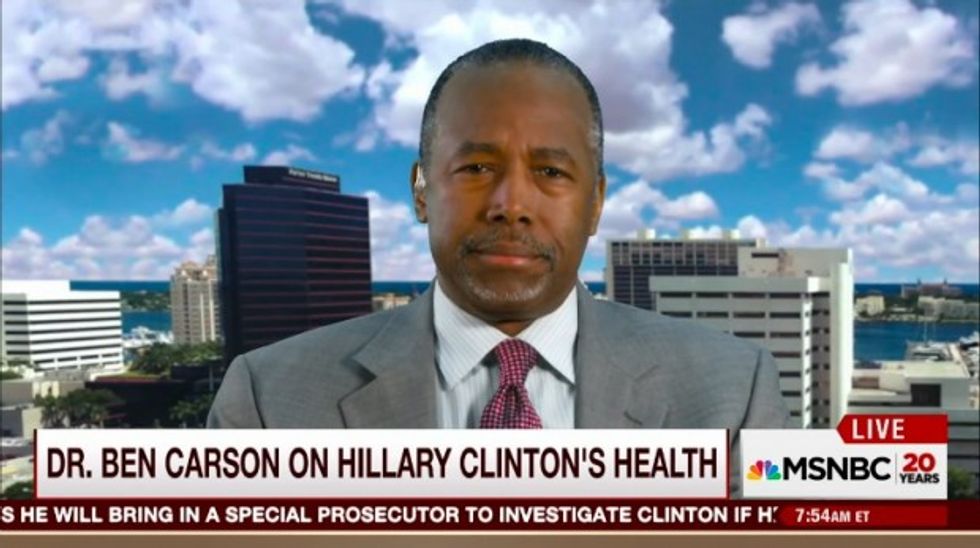 Dr. Ben Carson (Image source: MSNBC)
"I think that somebody who is running for president of the United States, particularly if they're elderly, and that would include both major candidates, should disclose their medical history," Carson said. "I'm not talking about from a year ago or two years ago; I'm talking about currently."
"I think that's common sense because as people get older, things begin to happen to them," he continued.
Carson added that the job of the president is a 24/7 appointment and "we the people" deserve to know what is in those medical records. When asked, he unequivocally said "absolutely" Trump should release his records as well.
It's been Clinton's health that has come under observation from some Trump surrogates lately. Former New York City Mayor Rudy Giuliani peddled rumors regarding the former secretary of state's health as he encouraged voters to "go online" and search for "Hillary Clinton illness." He has also said Clinton looks "tired" and "sick."
Trump spokeswoman Katrina Pierson speculated that Clinton suffered from the rare brain disorder called dysphasia in an interview with MSNBC on Thursday. Those who suffer from dysphasia experience deficiency in speech and comprehension due to brain damage.
"What's new are the other reports or observations of Hillary Clinton's behavior or mannerisms ... as well as her dysphasia, the fact that she's fallen, she has had a concussion," Pierson said. "There are really interesting things out there."
For his part, Trump did release a public letter in December from his gastroenterologist who claimed Trump would "be the healthiest individual ever elected to the presidency."
Watch Carson's full interview on "Morning Joe":
—
Follow Kaitlyn Schallhorn (@K_Schallhorn) on Twitter