MSNBC's Mika Brzezinski on Friday interrupted and repeatedly pressed pro-Donald Trump black pastor Mark Burns on whether the Republican presidential nominee's comment about a U.S. district judge was "racist" — and Burns finally had enough.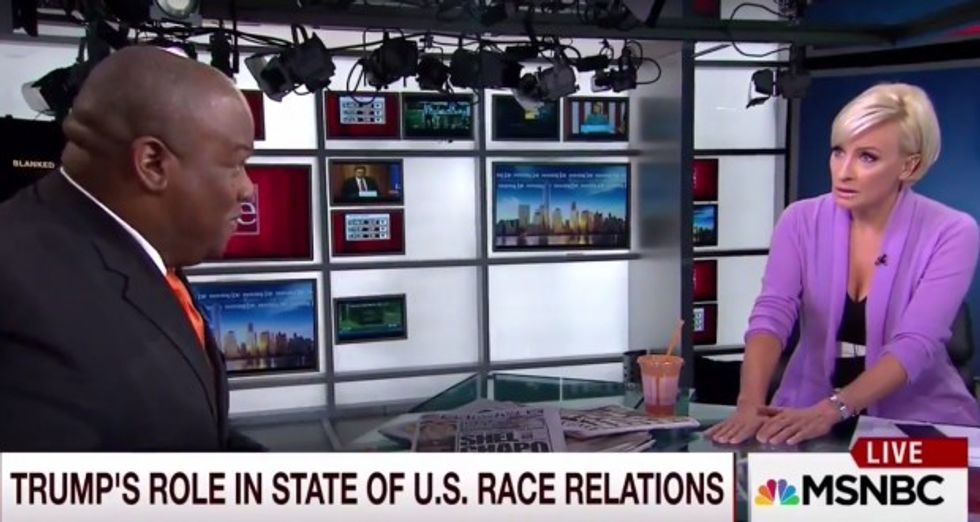 Image source: YouTube
Brzezinski was referring to Trump's issue with U.S. District Judge Gonzalo Curiel presiding over the Trump University lawsuit, saying the Indiana-born judge has "an inherent conflict of interest" because he is "of Mexican heritage" — and Trump has said he'd build a wall between the U.S. and Mexico.
"When he made the comments he made about the judge saying he was a Mexican, was that racist or not?" Brzezinski asked.
When Burns attempted to answer, Brzezinski interrupted: "I just want to know if it was racist or not. And then I can move on with the conversation, but I need to know where you stand on things in terms of reality. So, were those comments racist or not?"
Burns began to respond, "Well, I think it's important to understand. I think if I was in Mr. Trump's shoes, and I had a very controversial policy that offended ... potentially millions of Hispanic people — "
[sharequote align="center"]"Let me finish my statement, OK?"[/sharequote]
"Were the comments racist or not? I just want to know," Brzezinski interrupted again.
"Let me finish my statement, OK?" Burns replied.
"I'm asking for the answer to the question and not a statement," Brzezinski shot back. "Can I have an answer to the question?"
"Let me give you my answer the way I would give it to you, so that we can move forward, 'cause we're telling the story," Burns replied.
"But it's yes or no," the host insisted.
After explaining to Brzezinski that he didn't think Trump's comment was racist, Burns gave the host a short education on "what real racism is."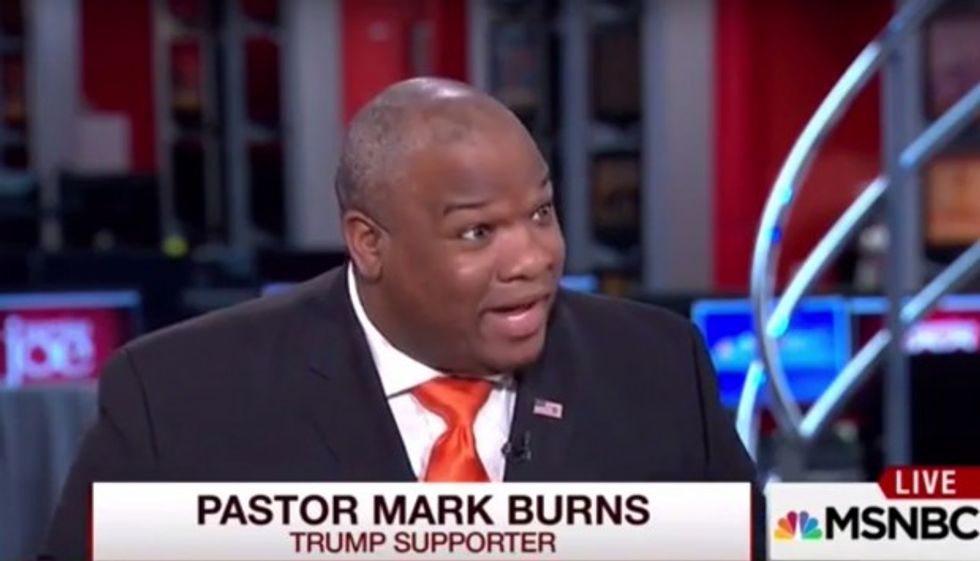 Image source: YouTube
"I'm a black man from the deep south, OK? In South Carolina just two months ago, they re-raised the confederate flag in my state to celebrate its one-year removal. So for you to sit here and ask me like I don't know what real racism is —"
At that point the Rev. Al Sharpton jumped in to rescue Brzezinski and veered into different territory.
Check out the conversation below:
This story has been updated.
(H/T: Mediaite)