TheBlaze's Lawrence Jones III slugged it out Monday with Alan Colmes on Fox News over the media's coverage of the 2016 presidential election.
"I believe Donald Trump has gone back and forth on positions ... as well as Hillary Clinton," Jones said. "We know that after every single primary — whether it was when Barack Obama ran or when Hillary Clinton ran the first time — that they began to migrate toward the center. And I think the media should cover both candidates and how they've changed. But they're not doing that."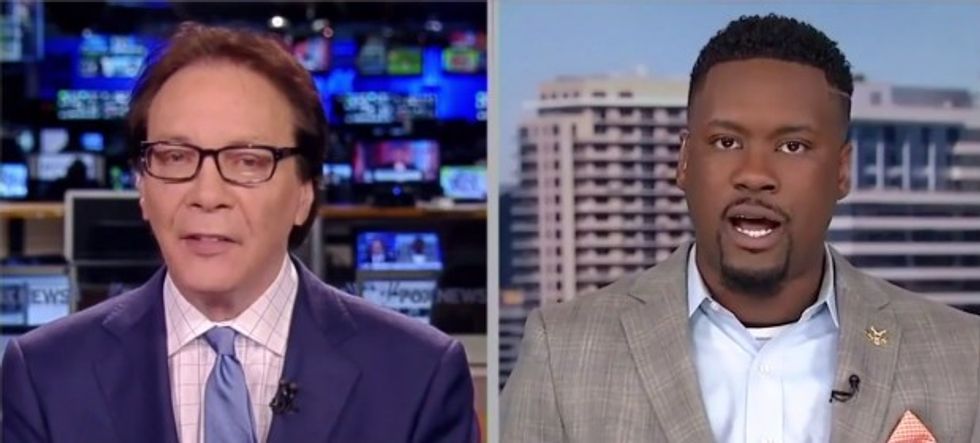 Image source: Facebook
Colmes admitted that he believes Clinton should finally commit to holding a press conference but said doing so doesn't serve her interests.
"Why should she if she's doing so well and she's seeing another campaign implode?" Colmes asked. "I mean, what she's doing is working. ...From a purely strategic standpoint politically, while Trump is imploding and tweeting stuff out that he's got to then clean up, and keeping the change his position on immigration, why not sit back and watch them implode?"
Jones fired back with a frank bottom-line statement: "The reality of it is ... both of these candidates suck. Their approval rating are horrible. … Why can't the media cover how both of them suck fairly?"
"They don't suck equally," Colmes said. "That's the problem ... As bad as you may think Hillary Clinton is, Donald Trump is 100 times worse."