An Iowa high school student was asked to remove a Confederate flag flying from the car he drove to school because administrators feared the controversial banner could lead to violence.
East High School in Des Moines said it supports students' rights to express themselves freely, but in this case, safety trumps free speech.
However, the student, who was not named, didn't remove the Confederate flag from his car. Instead, he opted to move his vehicle off campus.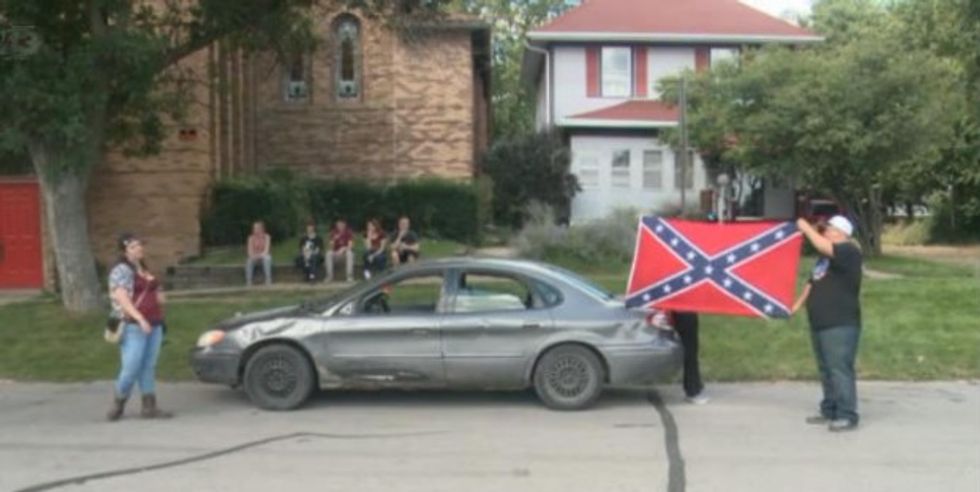 Image source: WHO-TV
"I don't like it because I feel like it's a form of racism. Stuff like that I just don`t like because I have African-American family myself," Ian Gordon, an East High student, told WHO-TV.
Student Deala Brown added, "Yeah, I mean it's racist. Why would he bring it?"
"I mean there's so many black people at this school, like, it's not respectful, so I don't think he should," Brown added.
And Alonzo Williams said the stars and bars represent "a bad time in our history."
But not everyone opposed the the flag flying from the student's vehicle.
"Everybody`s entitled to their own opinion. If you want to bring the gay flag to school, more power to you. You want to have your Confederate flag, you want to have the American flag, more power to you, it`s freedom of speech," student Bethany Chapman said.
"This is supposed to be America, the land of the free, but it`s 2016 and everybody`s offended by everything," Chapman added.
—
Follow the author of this story on Twitter and Facebook: