The Commission on Presidential Debates announced Friday who the moderators will be for the four upcoming presidential and vice presidential events.
The first presidential debate will be moderated by NBC's "Nightly News" anchor Lester Holt. The showdown will be hosted at Hofstra University in Hempstead, New York, Monday, Sept. 26. This is a major moment for Holt, given he is the first black full-time anchor of a network nightly newscast.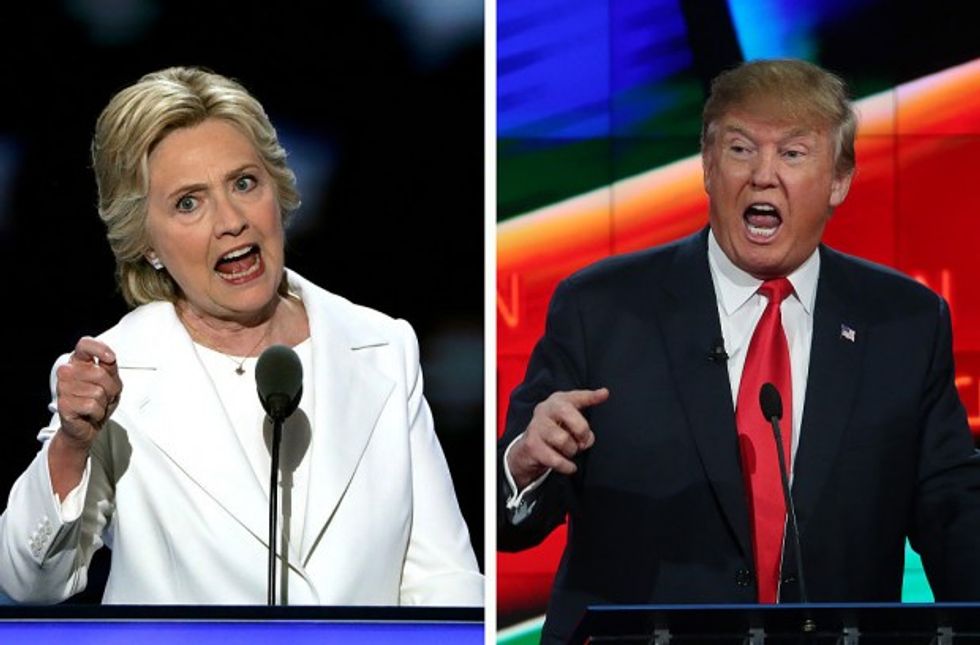 Hillary Clinton and Donald Trump (Justin Sullivan/Getty Images)
Next in line is the singular vice presidential debate, which will be moderated by CBS News anchor Elaine Quijano at Longwood University in Farmville, Virginia, Tuesday, Oct. 4.
The second presidential event will be unlike its predecessor in that it will boast a town hall-style format and will be moderated by two hosts: Martha Raddatz, chief global affairs correspondent and co-anchor of ABC's "This Week," and Anderson Cooper, anchor of CNN's "AC360." The town hall will take place Sunday, Oct. 9, at Washington University in St. Louis, Missouri.
The third and final presidential debate will be moderated by "Fox News Sunday" anchor Chris Wallace and will be hosted by the University of Nevada in Las Vegas Wednesday, Oct. 19. This is a historic development not only for Wallace, but also for Fox News. The showdown will mark the first time a Fox anchor has moderated a presidential debate in the network's 20-year history.
Chris Wallace will moderate the final presidential debate between @HillaryClinton & @RealDonaldTrump pic.twitter.com/3OsCgc0l1b

— FoxNewsSunday (@FoxNewsSunday) September 2, 2016
"These journalists bring extensive experience to the job of moderating, and understand the importance of using expanded time periods effectively," commission co-chairs Frank J. Fahrenkopf Jr. and Michael D. McCurry said in a statement about the announcement.
Raddatz is the only journalist on the list this year who has been tapped by the bipartisan commission before. In 2012, she moderated the debate between then-Republican vice presidential nominee Paul Ryan and Vice President Joe Biden. The ABC correspondent did, however, take some heat when it was revealed that President Barack Obama attended her 1991 wedding.
At the time, some questioned her ability to be objective, but ABC dismissed the scrutiny as "absurd."
"The formats chosen for this year's debates are designed to build on the formats introduced in 2012, which focused big blocks of time on major domestic and foreign topics," Fahrenkopf and McCurry said. "We are grateful for their willingness to moderate, and confident that the public will learn more about the candidates and the issues as a result."
The selection of moderators this election cycle was particularly cumbersome because the commission was working overtime to ensure the journalists selected will not become part of the story — a particularly difficult task since Hillary Clinton has had close ties to many in the media due to her lengthy career in public service and Donald Trump's knack for attacking the press for unfair coverage.
—
Follow the author of this story on Twitter: