A mother was putting her infant in a car seat in a Wal-Mart parking lot Sunday afternoon when she was attacked by two men she didn't know, police told KMBC-TV.
She screamed as she was struck in the back of her head, police said — and that's when a good Samaritan exited his car in the Shawnee, Kansas, lot and tried to come to her aid.
But police said that man — identified only as a 33-year-old Kansas City, Missouri, resident, KMBC said — was shot multiple times by one of the assailants.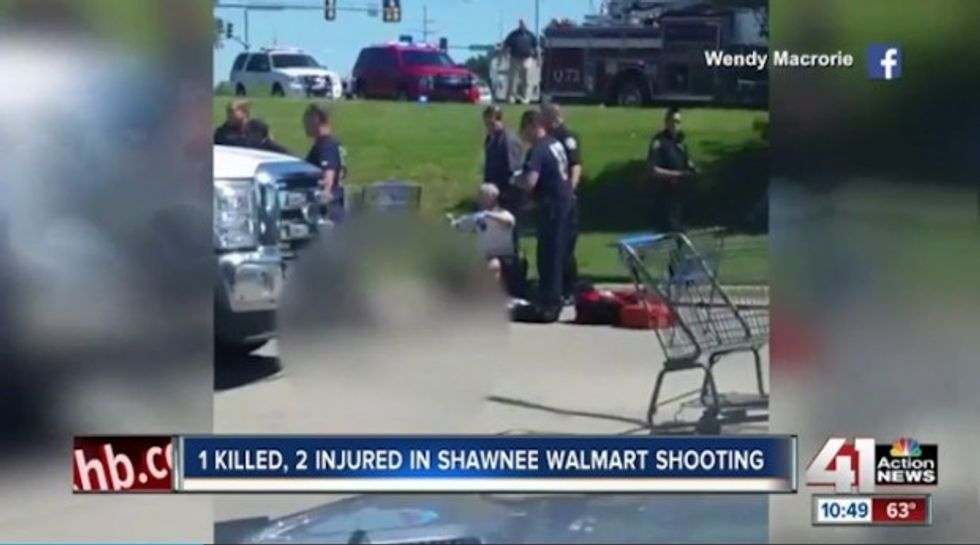 Authorities respond to a shooting in a Shawnee, Kansas, Wal-Mart parking lot Sunday. (Image source: KSHB-TV)
That's when good Samaritan No. 2 sprang into action. He, too, got out of his car — but he did so armed with a gun, shooting dead one of the attackers, identified as 28-year-old Kansas City resident John W. Simmons III, the Kansas City Star reported.
The second attacker ran off. Police told KMBC they thought they caught him with a K-9 officer, but that person wasn't connected to the incident.
Police said the good Samaritan who was shot was initially listed in critical condition but was awake and alert Sunday. He had surgery Sunday night, the Star said, and remained hospitalized. He was unarmed, the paper added.
The mother — a 39-year-old from Kansas City, according to the Star — was hospitalized in critical condition with a head injury but was upgraded to good Sunday evening. She was released from the hospital, KMBC added. Her infant wasn't injured.
The second good Samaritan, identified as a 36-year-old DeSoto, Kansas, man, was interviewed by police and released, KMBC said.
"You know our hearts and prayers go out to both of them for a speedy recovery. I know we have many people out right now, many teams of officers and detectives," Maj. Dan Tennis of the Shawnee Police Department told KMBC.