San Francisco 49ers quarterback Colin Kaepernick on Monday responded to criticism from one ESPN analyst who said Sunday that it's the job of a backup quarterback to "be quiet."
"This is a backup quarterback whose job it is to be quiet and sit in the shadows," EPSN's Trent Dilfer said. "Yet he [Kaepernick] chose a time when all of a sudden he became the center of attention. And it has disrupted that organization." Dilfer was commenting on Kaepernick's repeated refusal to stand during the playing of the national anthem.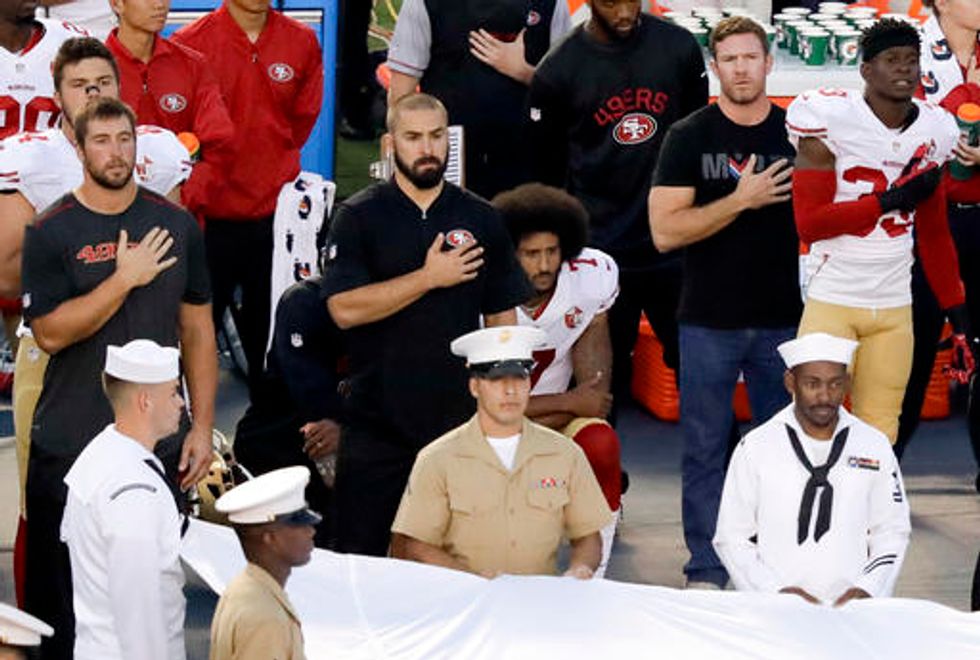 San Francisco 49ers quarterback Colin Kaepernick kneels during the national anthem before the team's Sept. 1 preseason football game against the San Diego Chargers in San Diego. (AP Photo/Chris Carlson)
Following the 49ers win over the Los Angeles Rams on Monday, Kaepernick fired back at the commentator.
"I think that's one of the most ridiculous comments I've heard. The fact that you say, 'You're a backup quarterback. Stay in your place,' that's an issue," Kaepernick said.
"I would ask him to really have a conversation with the families of people that have been murdered and see if he still feels that way," Kaepernick added. "Because I bet you he doesn't, just because he hasn't experienced that type of oppression."
(H/T: Mediaite)
—
Follow the author of this story on Twitter and Facebook: