Former Texas Gov. Rick Perry (R) debuted on ABC's "Dancing With the Stars" Monday — and people were raving about his appearance and performance on the hit reality TV show.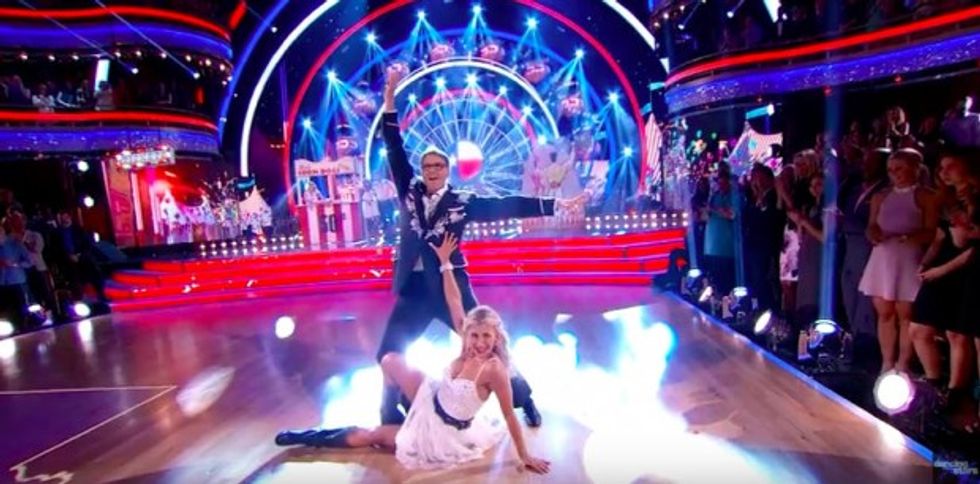 Former Texas Republican Gov. Rick Perry on ABC's "Dancing With the Stars" (Image source: YouTube)
Everyone from Perry's former primary opponent Carly Fiorina to current Florida Gov. Rick Scott agreed the 66-year-old's performance was epic. Even those who didn't like the performance itself could appreciate the reason he's competing for the mirror ball trophy in the first place, which is to help raise awareness for veterans' issues.
I've never watched #DWTS before but will for the first time ever tonight because @GovernorPerry is competing.

— Dana Loesch (@DLoesch) September 12, 2016
As a Virginian, I've never had a chance to vote for my good friend @GovernorPerry—but I will tonight on @DancingABC! Good luck, Rick! #DWTS

— Carly Fiorina (@CarlyFiorina) September 12, 2016
God Bless Texas, @GovernorPerry

— toddstarnes (@toddstarnes) September 13, 2016
You guys can hate on Rick Perry all you want, but he's having fun and raising awareness for vets issues. Give the man a break. #DWTS

— Conrad Close (@conradclose) September 13, 2016
Congratulations to my friend @GovernorPerry for competing tonight on Dancing with the Stars. Great watching you!

— Rick Scott (@FLGovScott) September 13, 2016
Rick Perry on #DWTS is easily my favorite thing about this trippy, reality TV-driven political year.

— Amanda Carpenter (@amandacarpenter) September 13, 2016
Following the performance, the former governor tweeted to his 342,000 followers, "That was fun!"
That was fun! Vote #teamdanceforourvets by calling 1-800-868-3410 or online: https://t.co/CvvFYHYj21#DWTShttps://t.co/zeRaZugexK

— Rick Perry (@GovernorPerry) September 13, 2016
Watch the performance below:
(H/T: Mediaite)
—
Follow the author of this story on Twitter and Facebook: