UPDATE 6:16 P.M.: A spokeswoman for the Rhode Island secretary of state confirmed Wednesday evening that it has certified more than 1,000 signatures in favor of Libertarian Party presidential nominee Gary Johnson. With the certification of the signatures, the former New Mexico governor is officially on the ballot in the state.
—
The campaign of Libertarian presidential nominee Gary Johnson announced Tuesday that it will be on the ballot in all 50 states and the District of Columbia — but some observers are saying, "Not so fast."
"With a majority of Americans wanting a choice other than Donald Trump and Hillary Clinton, today we now know for certain that on Election Day, every voter in America will have that alternative option," the former New Mexico Republican governor said in a statement. "And today we also know that the only other option on every American voter's ballot will be myself and [running mate William] Weld."
According to the Libertarian Party's website, which tracked its candidates' ballot access, Rhode Island was the final state Johnson needed — a feat that a source claimed the campaign may have prematurely said it accomplished Tuesday.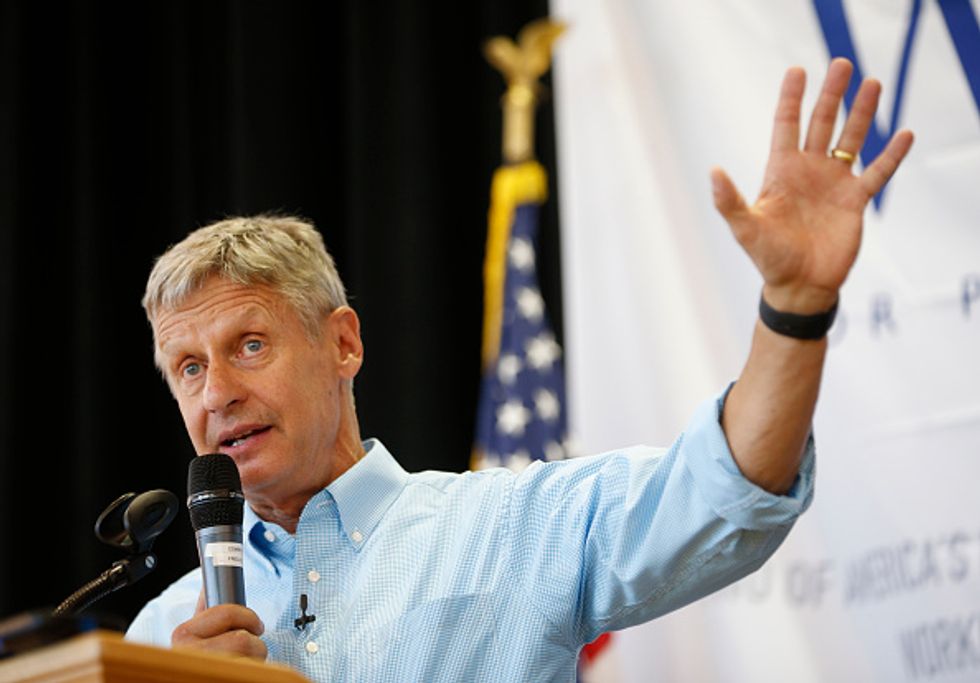 Libertarian Party presidential nominee Gary Johnson talks to a crowd of supporters at a rally in Salt Lake City, Utah. (Getty Images/George Frey)
In order to gain ballot access in Rhode Island as an independent presidential candidate, the candidate must collect 1,000 signatures to qualify, according to a spokeswoman in Rhode Island's secretary of state's office. Those signatures are then distributed to the appropriate cities and towns for clerks to check their validity.
Next, the signatures are given to a local board of canvassers to be certified before finally being turned in to the secretary of state's office.
Johnson's campaign submitted 1,033 signatures, but only 939 signatures have been properly certified and given to the secretary of state's office as of late Wednesday afternoon. The remaining 61 certified signatures must be turned into the office by Thursday in order to count.
A source with knowledge of the process told TheBlaze that the office does expect the the appropriate number of signatures to be turned in on time and credited Johnson's current lack of ballot access in Rhode Island to just a "technicality."
Rhode Island did hold primary elections Tuesday, which could have caused the delay in some signatures becoming certified, but the source was unable to answer whether Johnson's campaign could still feel the ramifications should a local board of canvassers miss the deadline to certify and submit his signatures.
Regardless of the "technicality," Johnson's communications director Joe Hunter stressed that, while the campaign isn't disagreeing with the secretary of state's office's admission that it hasn't gained ballot access quite yet, the campaign still "expects" to gain access.
"It's not a concern," Hunter told TheBlaze Wednesday. "We know that we have qualified. We know that we have submitted more than enough verified signatures."
Aside from gaining ballot access, Johnson's campaign also took out a full page ad in Wednesday's New York Times to publish an open letter to the Commission on Presidential Debates to make the case that the members of the Libertarian ticket should appear on stage with the major-party nominees. 
"We understand your reasons for basing debate inclusion on the five national polls of your choosing. But much has changed since 1992," said the letter signed by both Johnson and Weld. "The conditions of the presidential election of 2016 are extraordinary and without precedent."
Presidential candidates must be polling with at least 15 percent in addition to being on a "sufficient number" of state ballots in order to be eligible for debates, according to the Federal Election Commission. Johnson only is polling at 9.1 percent nationwide.
The first 2016 presidential debate will be held Sept. 26
—
Follow Kaitlyn Schallhorn (@K_Schallhorn) on Twitter