A new daily tracking poll released Thursday has Republican presidential nominee up six points over Democratic rival Hillary Clinton.
The USC Dornsife/Los Angeles Times "Daybreak" poll, which surveys 3,000 eligible voters regularly until Election Day, found that if the election were held today, Trump would win with 47 percent of the vote to Clinton's 41 percent.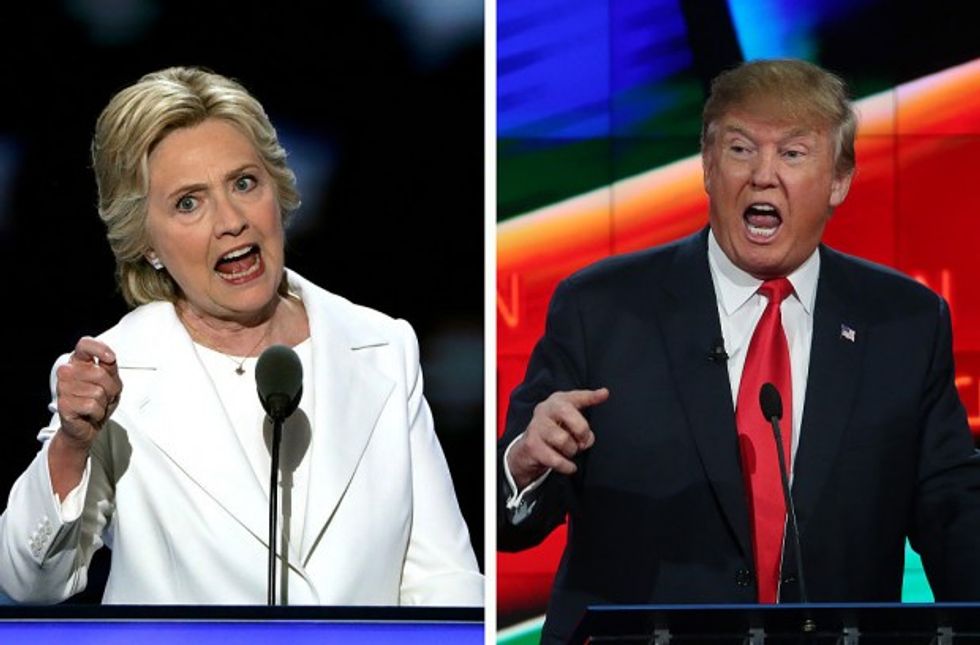 Hillary Clinton and Donald Trump (Justin Sullivan/Getty Images)
It's Trump's largest lead since just after the Republican National Convention in July.
The same poll had Trump leading Clinton by just half a percentage point on Aug. 20: 44.2 to 43.6 percent.
A CNN/ORC poll conducted Sept. 1-4 showed the Republican nominee up two points over Clinton, with a margin of error of 3.5 percent.
The reason for Trump's lead in Thursday's poll, as explained by the Los Angeles Times, is because of more Trump supporters say they plan to cast a ballot in November. Once considered Clinton's strong suit, Trump has recently upped his ground game in key battleground states like Pennsylvania, Ohio and Florida.
Meanwhile, a New York Times/CBS News poll released Thursday has Clinton leading Trump 46 to 44, which is within the margin of error.
—
Follow the author of this story on Twitter and Facebook: