Republican presidential nominee Donald Trump's campaign released Thursday the results of a physical that the candidate recently underwent.
According a letter from Dr. Harold N. Bornstein — who the campaign said has been Trump's personal physician for more than 30 years — the GOP candidate's health is "excellent."
Bornstein wrote that Trump is 6 feet 3 inches tall and weighs 236 pounds. He was hospitalized as a child for an appendectomy.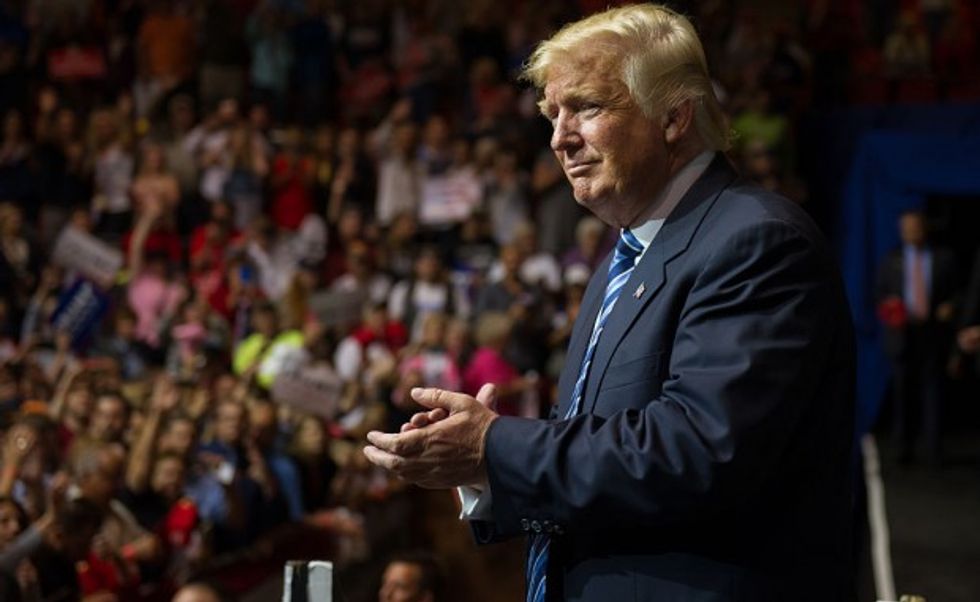 Republican presidential candidate Donald Trump takes the stage at a campaign rally at the Canton Memorial Civic Center on Wednesday in Canton, Ohio. (Jeff Swensen/Getty Images)
The letter stated that Trump takes rosuvastatin to treat his cholesterol and low-dose aspirin and noted that Trump does not use tobacco products or alcohol.
Trump's campaign said the results listed in the letter are from an examination that took place Sept. 9 and was administered by Bornstein.
Some noted that the Trump campaign had pledged to release extensive medical records rather than a summary letter and offered some thoughts on its contents:
The campaign is calling this letter his "medical records" -- that's not what "medical records" means.

— Olivia Nuzzi (@Olivianuzzi) September 15, 2016
Trump included his testosterone levels, an item not included in Obama's 2008 letter or Mitt Romney's 2012 letter.

— Candace Smith (@CandaceSmith_) September 15, 2016
Another observation: Trump's 441.6 testosterone level is below average for men.

— Paige W. Cunningham (@pw_cunningham) September 15, 2016
Read the letter below:
—
Follow the author of this story on Twitter and Facebook: