Police say a disabled elderly man in California was beaten in a Wal-Mart parking lot Tuesday by an unidentified man — and it all started over a parking spot.
According to KTXL-TV, the unnamed victim approached the male suspect, whose girlfriend was driving the vehicle the couple was in, and accused the woman of parking illegally. That's when things got heated.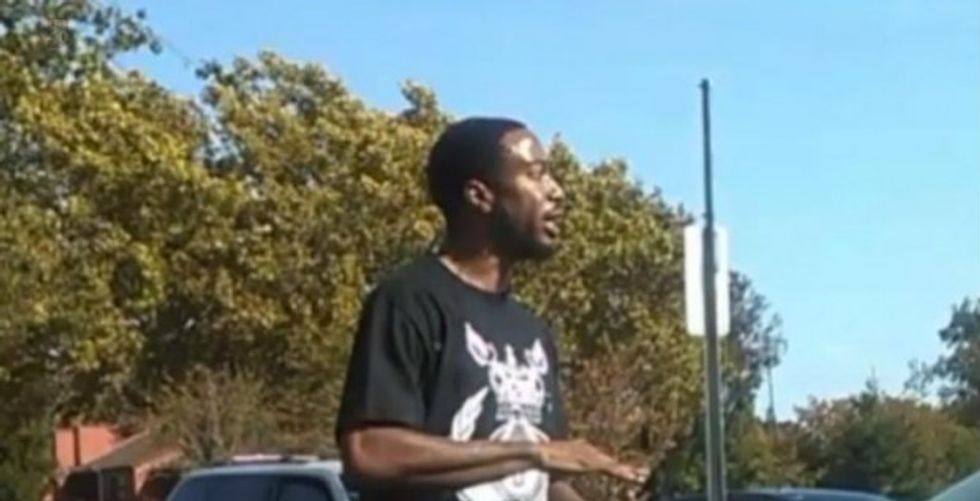 An unnamed suspect who police believe beat a disabled elderly man is seen in a Wal-Mart parking lot in Fairfield, California. (Image source: KTXL-TV)
"All of a sudden, the guy just attacked him — older gentleman," Chris Benett, who witnessed the incident with his girlfriend Suzie Fowler, said. "Opened up his door, grabbed him around his neck, punched him a couple of times."
Fowler added, "We have parents, too. It's hard to imagine something like that happening to them. You don't really think about your safety in that type of circumstance."
Benett, who is a disabled veteran, came to the rescue of the elderly man. Meanwhile, Fowler started to record the incident.
The suspect and his girlfriend, realizing that they had met their match, took off in separate vehicles just moments later. But before they left, the suspect reportedly shouted at Fowler to stop recording.
Fowler refused, and threatened to release her pitbull that was still in the car if he tried to touch her. Fairfield police are now looking for the suspect.
Benett, for his part, is warning whoever the suspect is to turn himself in because "next time [he] might not be so lucky."
—
Follow the author of this story on Twitter and Facebook: