The Huffington Post's review of "Bridget Jones's Baby" laments that the title character does not consider an abortion when faced with an unplanned pregnancy.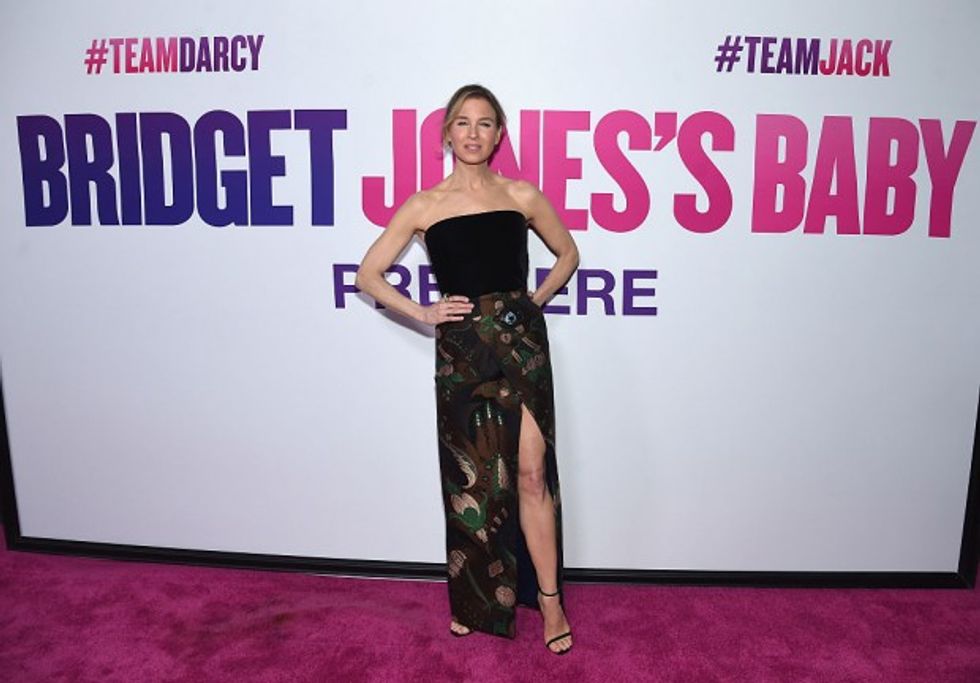 Renee Zellweger attends the 'Bridget Jones Baby' New York Premiere at Paris Theater on September 12, 2016 in New York City. (Jamie McCarthy/Getty Images)
In the third installment in the series of romantic comedies, Bridget Jones — a hapless heroine with a love life in a perpetual state of disarray — discovers she is pregnant and is unsure which of her two suitors is the baby's father.
In the Huffington Post piece, Laura Goldman praised Renee Zellweger's performance in the lead role and wrote that the movie "generates a belly laugh a minute."
But she added that "the one flaw of the movie is that it overdoses on cuteness instead of taking the braver path of discussing birth control and abortion on screen."
"Yes, the plot of the movie required that Bridget get pregnant, yet she could have discussed or planned more responsible contraception than 10-year-old vegan condoms found in the bottom of her bag," Goldman wrote. "Or in a novel twist, the horny males could have tried and failed to take responsibility for preventing pregnancy. It certainly would have been in character for the uptight Mr. Darcy."
Goldman claimed that "abortion" is the "one crucial word" missing from the film's script.
"It is absolutely inconceivable that Bridget, a single 43-year-old pregnant woman, never considers terminating her pregnancy even if she eventually rejected it," Goldman wrote. "The screenwriters of the film should have had her discuss it with her doctor or could have opted for the less in your face route of having Bridget write about it in her diary, which is now an iPad."
"It is 2016 not 1950," Goldman added. "It is okay for a 43-year-old single woman to fear she can't handle a baby on her own and consider terminating her pregnancy."
In a trailer for the film, as Bridget Jones looks at a sonogram image of her unborn baby, she says, "You're the best thing I've ever seen."
—
Follow the author of this story on Twitter and Facebook: