A former Donald Trump adviser said Friday that the Republican presidential nominee still isn't sure if President Barack Obama was born in the U.S.
Ahead of Trump's press conference in Washington, D.C., where Trump is expected to address his position on the so-called "birther" conspiracies, Roger Stone, a longtime friend of the Manhattan billionaire, told the "Boston Herald Drive" that Trump "has always had suspicions about this and to him it never added up."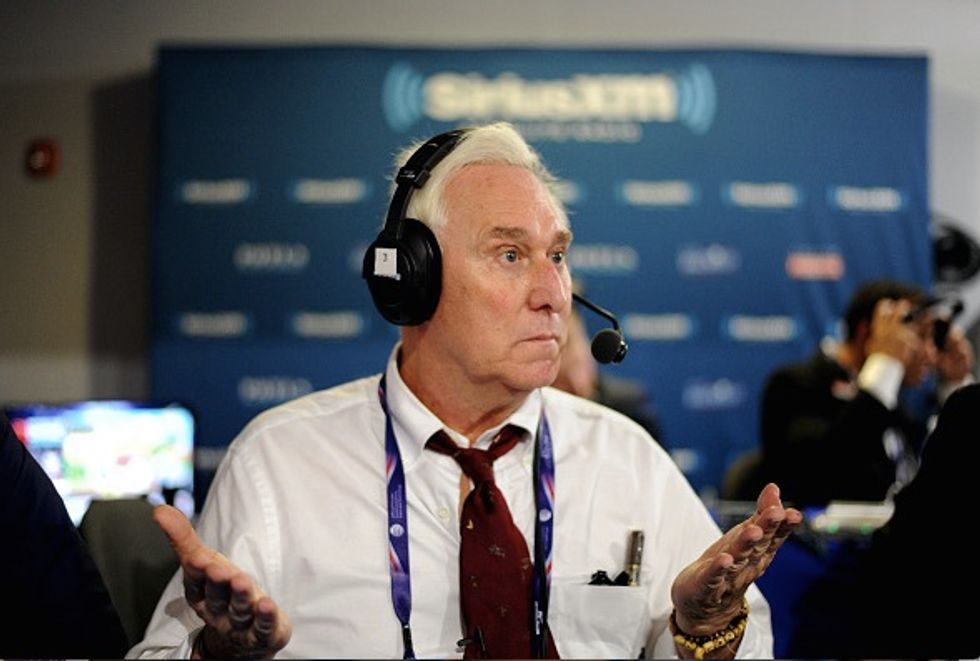 Former Donald Trump adviser Roger Stone. (Getty Images/Ben Jackson)
"The thing about Trump, of course, is that he will never be pressured into doing something that he does not want to do," Stone said. "This is what I think makes him a great negotiator. He is tough. He's got real concerns here. I think the bottom line is he doesn't know. He's not sure.
"That's not the same as 'I'm certain the president was born in Hawaii' or 'I'm certain that he was not,'" he added.
Stone speculated that the news cycle surrounding Trump's belief about Obama's birthplace is a "certified distraction" from Democratic presidential nominee Hillary Clinton's "health problems":
I mean, all of a sudden David Duke is back in the news cycle. All of a sudden birtherism is back in the news cycle. I think what this is really about is panic by the Democrats who see Trump pulling ahead in Ohio, pulling ahead in Pennsylvania, pulling ahead in Florida, pulling ahead in Nevada, pulling head in Iowa.
While Trump has not personally stated his opinions on the president's birthplace, his campaign did release a statement Thursday night that certified the candidate's belief that Obama was born in the U.S.
"Mr. Trump believes that President Obama was born in the United States," a statement from Trump's senior communications advisor, Jason Miller, said.
On Friday, during an interview on Fox Business, Trump teased his upcoming press conference at his new hotel in Washington, D.C.: "I'm going to have a big statement made today at the hotel. You watch my statement. We have to keep the suspense going."
Clinton slammed Trump Thursday for refusing to acknowledge Obama's American birthplace.
"Every time we think he's hit rock bottom, he sinks even lower," Clinton said. "He was asked one more time, 'Where was President Obama born?' And he still wouldn't say Hawaii. He still wouldn't say America."
Former 2016 Democratic presidential contender Sen. Bernie Sanders (Vt.) also criticized Trump in a series of tweets Friday.
"My dad was born in Poland. Do you know how many people ever asked me whether or not I was born in America? Nobody ever asked me that," Sanders said. "Maybe it has something to do with the color of my skin."
My dad was born in Poland. Do you know how many people ever asked me whether or not I was born in America? Nobody ever asked me that.

— Bernie Sanders (@SenSanders) September 16, 2016
Maybe it has something to do with the color of my skin.

— Bernie Sanders (@SenSanders) September 16, 2016
(H/T: Media Matters)
—
Follow Kaitlyn Schallhorn (@K_Schallhorn) on Twitter