Republican presidential nominee Donald Trump sparked controversy Friday evening after suggesting at a campaign rally in Miami that the Secret Service detail that protects Democratic challenger Hillary Clinton be disarmed.
"She wants to destroy your Second Amendment," Trump said. "I think what we should do is she goes around with armed bodyguards, like you have never seen before. I think that her bodyguards should disarm, right? Right? Think they should disarm. Immediately, what do you think?"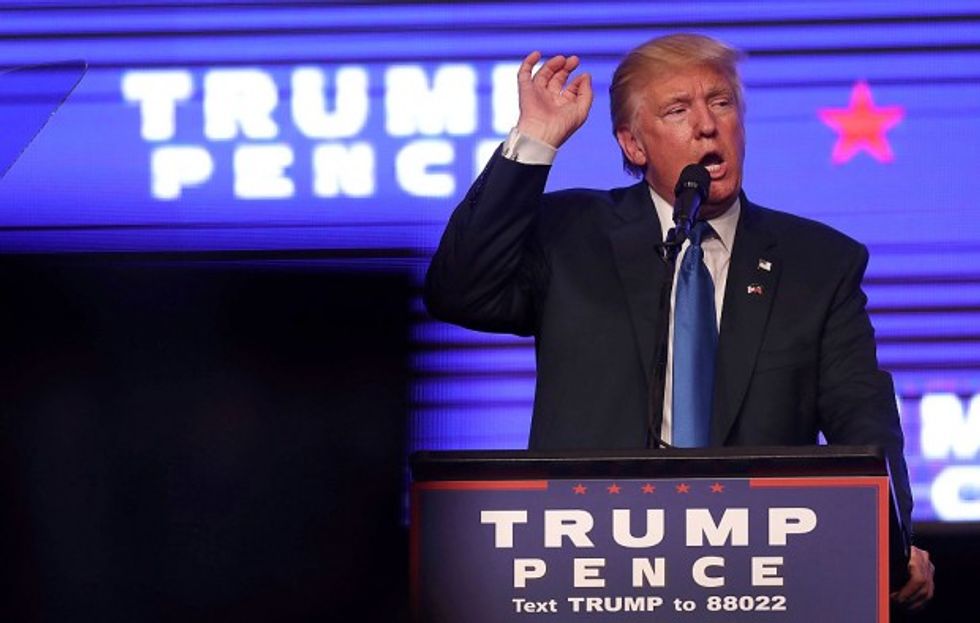 Republican presidential candidate Donald Trump speaks during a rally in Miami on Friday. (Getty Images/Joe Raedle)
"Take their guns away," he continued. "She doesn't want guns. Let's see what happens to her."
"It will be very dangerous," the billionaire businessman added.
Clinton campaign manager Robby Mook was quick to respond Friday evening, calling Trump's comments "out of bounds" while adding that Trump "has a pattern of inciting people to violence," according to USA Today.
"Whether this is done to provoke protesters at a rally or casually or even as a joke, it is an unacceptable quality in anyone seeking the job of Commander in Chief," Mook said in a statement. "He is unfit to be President and it is time Republican leaders stand up to denounce this disturbing behavior in their nominee."
This wasn't the first time Trump made questionable comments about Clinton and guns. Just last month, Trump raised eyebrows after he said the "Second Amendment people" were the only people who could stop Clinton from appointing liberal judges to the Supreme Court if elected president.
"Hillary wants to abolish, essentially abolish, the Second Amendment," Trump said, according to Politico. "By the way, and if she gets to pick her judges, nothing you can do, folks. Although the Second Amendment people, maybe there is, I don't know. But I'll tell you what, that will be a horrible day."
The Secret Service later followed up on the comments by meeting with the Trump campaign.
Trump on Clinton's bodyguards: "Take their guns away. She doesn't want guns... let's see what happens to her." https://t.co/NBBP1pji5j

— MSNBC (@MSNBC) September 16, 2016
—
Follow the author of this story on Twitter and Facebook:
[facebook //www.facebook.com/plugins/like.php?href=