At least one person has been shot amid violent protests swarming throughout Charlotte and is on life support, the Charlotte-Mecklenburg Police Department confirmed late Wednesday.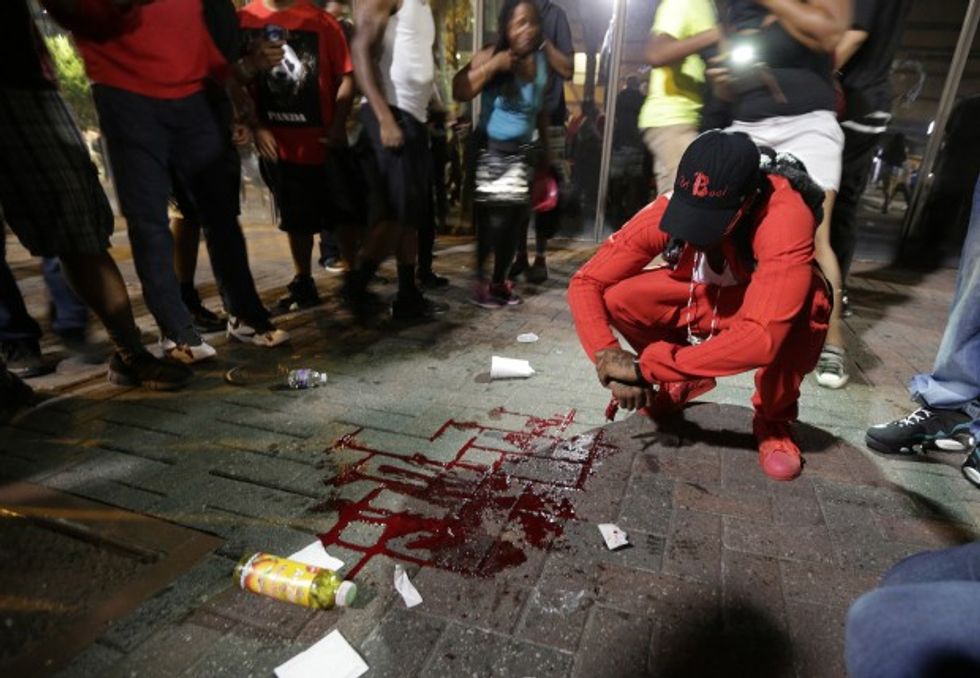 A man squats near a pool of blood after a man was injured during a protest of Tuesday's fatal police shooting of Keith Lamont Scott in Charlotte, N.C. on Wednesday, Sept. 21, 2016. Protesters rushed police in riot gear at a downtown Charlotte hotel and officers have fired tear gas to disperse the crowd. At least one person was injured in the confrontation, though it wasn't immediately clear how. Firefighters rushed in to pull the man to a waiting ambulance. (AP Photo/Chuck Burton)
The unknown individual was reportedly shot in front of the Omni Hotel in downtown Charlotte. He is in critical condition and on life support, according to the City of Charlotte. The shooting was "civilian on civilian" and did not involve a law enforcement officer.
ALERT: Fatal shot uptown was civilian on civilian. @CMPD did not fire shot.

— City of Charlotte (@City of Charlotte) 1474507999.0
According to a report from the Charlotte Observer, a medic said the unidentified gunshot victim was being treated around 8:45 p.m. after being shot in the area of the North College and East Trade streets.
#BREAKING: #CMPD Police sources confirm to me shooting in 100 block of East Trade. Did not involve an officer. Condition of person unknown.

— Molly Grantham WBTV (@Molly Grantham WBTV) 1474505359.0
"your life is in danger, you need to move!" police in riot gear yelling at us

— Ely Portillo (@Ely Portillo) 1474504962.0
Moments after the bangs rang out, police reportedly deployed tear gas as the fights intensified.
The violent demonstrations have broken out as police have refused to release any video of the Tuesday shooting of 43-year-old Keith Lamont Scott. Intense anger built as two starkly different versions emerged: Police say Scott disregarded repeated demands to drop his gun, while neighborhood residents say he was holding a book, not a weapon, as he waited for his son to get off the school bus.
"We've been very patient, but it's time for us now to restore order," CMPD Chief Kerr Putney told Fox News' Megyn Kelly of the officers' decision to work toward dispersing the violent demonstrators.
As the protests continue, reports of looting in uptown Charlotte are coming in.
And now we have reports of looting uptown #KeithLamontScott #CharlotteProtest

— Sergio Tovar (@Sergio Tovar) 1474507241.0
Wednesday's protest started as a downtown prayer vigil, but an angry group left the vigil and marched through downtown Charlotte.
They shouted "black lives matter" and "hands up; don't shoot" while cursing at officers with bicycles blocking intersections. As the protesters approached the Omni hotel, officers in riot gear lined up outside arm in arm and a few marchers threw bottles and clods of dirt.
Immediately after the shooting, police began firing flash grenades and protesters threw fireworks. Police then fired tear gas, and the crowd of hundreds dispersed.
But not all the marchers left. Police in riot gear then began marching arm in arm through downtown Charlotte intersections, shooting tear gas at people who charged them. At least one protester knocked down a television reporter during a live shot.
There were hints earlier Wednesday that Charlotte would suffer a second night of destruction. As Charlotte's white mayor and black police chief stood at City Hall and appealed for calm, African-American leaders who said they were speaking for Scott's family held their own news conference near where he was killed Tuesday, reminding the crowd of other shootings and abuses of black men.
John Barnett, who runs a civil rights group called True Healing Under God, or THUG, warned that the video might be the only way for the police to regain the community's trust: "Just telling us this is still under investigation is not good enough for the windows of the Wal-Mart."
On Tuesday night, dozens of demonstrators threw rocks at police and reporters, damaged squad cars, closed part of Interstate 85, and looted and set on fire a stopped truck. Authorities used tear gas to break up the protests. Sixteen officers suffered minor injuries. One person was arrested.
The violence broke out shortly after a woman who appeared to be Scott's daughter posted a profanity-laced, hourlong video on Facebook, saying her father had an unspecified disability and was unarmed. In the footage, she is at the cordoned-off shooting scene, yelling at officers.
"My daddy is dead!" the woman screams on the video, which has not been authenticated by The Associated Press.
On Wednesday morning, Charlotte-Mecklenburg Police Chief Kerr Putney said: "It's time to change the narrative, because I can tell you from the facts that the story's a little bit different as to how it's been portrayed so far, especially through social media."
The police chief said officers were serving arrest warrants on another person when they saw Scott get out of a vehicle with a handgun. A black plainclothes officer in a vest emblazoned "Police" shot Scott after the officer and other uniformed members of the force made "loud, clear" demands that he drop the gun, the chief said.
Putney was adamant that Scott posed a threat, even if he didn't point his weapon at officers, and said a gun was found next to the dead man. "I can tell you we did not find a book," the chief said.
Neighbors, though, said that the officer who fired was white and that Scott had his hands in the air.
The three uniformed officers had body cameras; the plainclothes officer did not, police said. But the chief said he cannot release the video because the investigation is still underway. No cellphone video has emerged on social media, as happened in other cases around the country.
The plainclothes officer, identified as Brently Vinson, a two-year member of the department, has been placed on leave, standard procedure in such cases.
Scott has a lengthy criminal record, including convictions in Texas, North Carolina and South Carolina. Texas records showed he was convicted of evading arrest with a vehicle in 2005, and several months later, of aggravated assault with a deadly weapon.
The unrest took many by surprise in Charlotte, the banking capital of the South with a population of 830,000 people, about 35 percent of them black. The city managed to pull through a racially charged shooting three years ago without the unrest that erupted in recent years in such places as Baltimore, Milwaukee and Ferguson, Missouri.
In 2013, Charlotte police charged one of their own, Randall Kerrick, with voluntary manslaughter days after the white officer shot an unarmed black man who had been in a wreck and was looking for help. The jury deadlocked and the charge was dropped last summer. There were a few protests but no violence.
At the apartment complex where Scott was killed, some people who said they witnessed the shooting told their version with an air of certainty even when they were hundreds of yards away.
Taheshia Williams said her balcony overlooks the shady parking spot where Scott was Tuesday afternoon. She said he often waited there for his son because a bicycle accident several years ago left him stuttering and susceptible to seizures if he stayed out in the hot sun too long.
On Tuesday, she said, Scott had only a book in his hands and was following orders.
"He got out of his car, he walked back to comply, and all his compliance did was get him murdered," Williams said.
The Associated Press contributed to this story.