Amid all the violence, frustration and yelling, one man has descended into Charlotte to offer law enforcement officers something they probably aren't expecting: a hug.
But when Ken E. Nwadike, Jr., a black man, began hugging two Charlotte police officers during the protests Wednesday night, infuriated demonstrators began verbally assaulting him for the kind gesture. One protester even called Nwadike a "p***y n****r."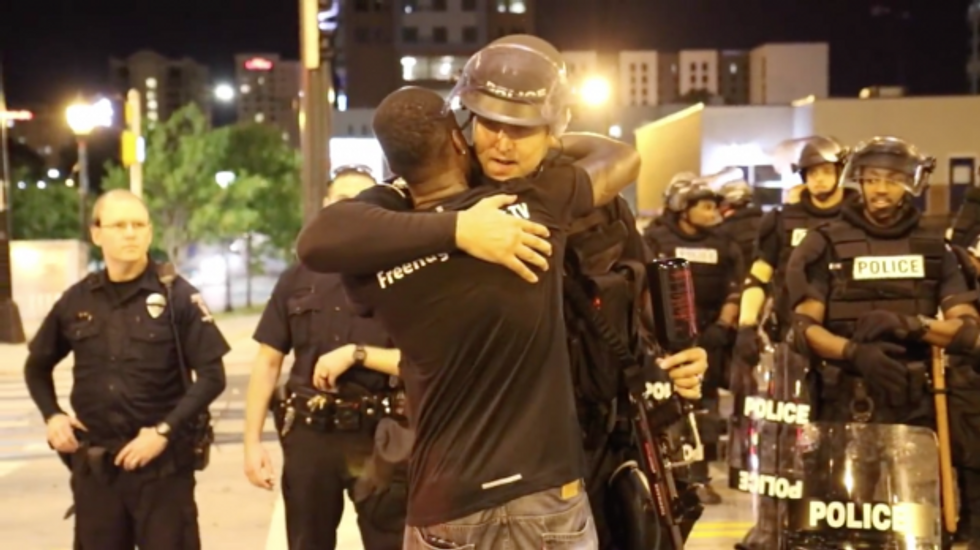 Facebook/Free Hugs Project
"It's not even like that," he responded, once he heard the demonstrators yelling expletives toward him. "It's about staying neutral — that's what's important."
But the protesters, raising their voices, continued berating Nwadike, who then asked them, pointing at the officer he just hugged, "Did he kill somebody?" The demonstrator offered no answer.
Nwadike told the frustrated crowd that he understands their concerns, adding that he's "hurt" just like them, but warned against making sweeping generalizations about law enforcement officers, comparing it to when some people make assumptions about all black people.
As he continued to defend his decision to hug the officers because "love is free," he appeared to be persuading some of the demonstrators. The video of the interaction posted on Facebook has so far garnered more than 17 million views and nearly 250,000 shares.
"The thing is," Nwadike explained, "I see them as human beings, just like I see everybody on this side as human beings."
"His uniform doesn't make him a robot," he said, pointing at the collection of police officers behind him. "Just like your uniform — your skin color — doesn't make you a criminal, and that's what I need people to understand."
"This [police officer] gave me a hug and [this protester] wants to fight me because of that," he continued. "How does that make sense? We're spreading more hate into the world, and that's what's frustrating me. We can't love one another? It doesn't make sense."
Nwadike is the founder of the peace initiative known as the Free Hugs Project. According to the group's Facebook page, the organization "spreads love, inspires change and raises awareness of social issues through motivational videos."
See the full video below:
—
Follow the author of this story on Twitter: