CHARLOTTE, N.C. (TheBlaze/AP) — Charlotte's police chief says there is at least one video from a body camera and one other video from a dashboard camera that captured the deadly shooting of a black man by an officer.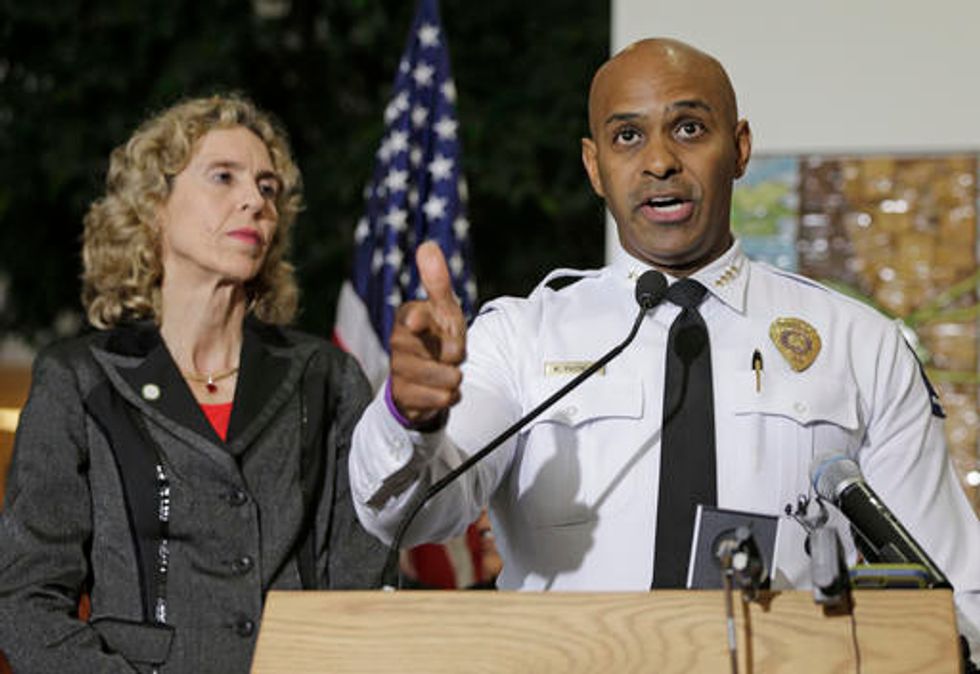 Charlotte-Mecklenburg Police chief Police Chief Kerr Putney, right, gestures as he answers a question as Charlotte mayor Jennifer Roberts, left, watches during a news conference after a second night of violence following Tuesday's fatal police shooting of Keith Lamont Scott in Charlotte, N.C. Thursday, Sept. 22, 2016. (AP Photo/Chuck Burton)
But Chief Kerr Putney continued Friday to refuse to release the video, which could resolve wildly different accounts of the shooting of 43-year-old Keith Lamont Scott.
Police have said Scott refused repeated commands to drop a gun; residents say he was unarmed. An attorney for his family, who viewed the video Thursday, says it's not clear from the video if he's holding anything, including a gun.
Putney said during a news conference Friday that he cannot release more information about the shooting because his department is not leading the investigation, which is being conducted by the State Bureau of Investigation.
Charlotte Mayor Jennifer Roberts added, "I do believe the video should be released; the question is on the timing."
Charlotte mayor: "I do believe the video should be release; the question is on the timing" https://t.co/yIvgTCs8xQ pic.twitter.com/NMTkPIeZaw

— CBS News (@CBSNews) September 23, 2016
—