It's the end of an era. Texas Sen. Ted Cruz has decided he will vote for Republican presidential nominee Donald Trump on Election Day, and Glenn Beck isn't happy about it.
"Profoundly sad day for me," the radio and TV show host wrote in a Facebook post Friday. "Disappointment does not begin to describe. Maybe it is time to go to the mountains for a while."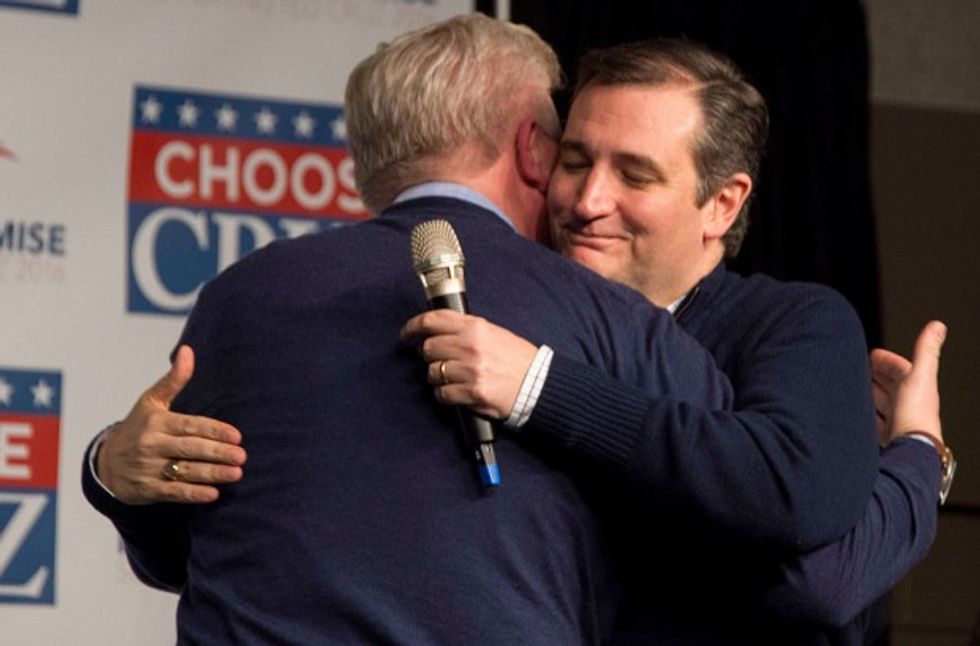 Glenn Beck (L) gets a hug after announcing his endorsement of US Senator and Republican Presidential Candidate Ted Cruz (R) during a campaign event in Waterloo, Iowa, Jan. 23, 2016, ahead of the Iowa Caucus. (JIM WATSON/AFP/Getty Images)
Earlier this summer at the Republican National Convention, Cruz refused to endorse Trump, telling the delegation gathered in Cleveland to "vote your conscience" instead.
"And to those listening, please don't stay home in November," he said from the convention stage. "Stand, and speak, and vote your conscience, vote for candidates up and down the ticket who you trust to defend our freedom and to be faithful to the Constitution."
And Beck, who endorsed Cruz in January, when the battle for the GOP nomination was still ongoing, stood unapologetically with the Texas senator, with whom he shared a disdain for Trump. In fact, when the conservative talker first endorsed Cruz, he said the primary had become a "David against Goliath" situation.
"He has been, you know, David against Goliath in his own party, against [the] other party, in the media," Beck said at the time. "Nobody will stand with this guy, and yet he's never backed down from the fight."
But it appears Cruz has, in fact, backed down, despite having told voters in Cleveland in August that, following attacks by Trump against his father and his wife, he would not "come like a servile puppy dog" and embrace the billionaire businessman.
"You might have a similar view if someone was attacking your wife," he said at the time. "In fact, I hope you would. I hope you would."
In July, when it appeared Cruz was going to stand firm on his decision not to support Trump, Beck praised the move as "amazing" and "a turning point" in American politics. Naturally, he voiced disappointment at Friday's news that Cruz had changed his mind.
"America is an idea, not a country. When we discuss the destruction of our country, that is vastly different than the destruction of an idea," Beck wrote. "I fear the idea is already lost, due to the panic of losing ones comfort and country."
"Welcome to the big tent. GOP / DNC 2016 join or die," he added.
In a follow up post, Beck announced Cruz will be calling into his radio show Monday morning sometime between 9 a.m. and noon, but indicated an exact time had not yet been determined.
—
Follow the author of this story on Twitter: